3 BIG Questions: Sandra Marsian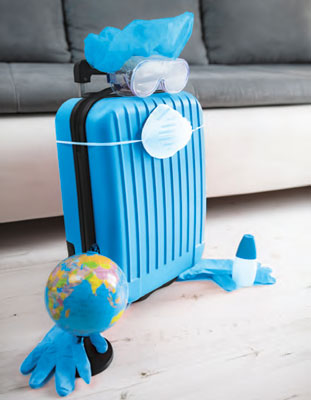 Tips and advice on planning that much-needed summer trip
By Debbie Gardner
As Vice President of Membership, Travel & Marketing for AAA Pioneer Valley, Sandra Marsian has had her finger on the pulse of all the recent changes and upheavals in travel routines and vacation planning.
With the summer months upon us, and more and people looking for a little time away to relax and recoup, Prime reached out to Marsian to get a read on what to expect when you head out on that summer trip.
Here's what she shared with us:
1. As people begin venturing out for day and vacation trips, what types of things are open and available to do at local and regional tourist destinations?
This varies by state and in some cases by county within a state and changes on almost a daily basis. Slowly businesses and attractions are beginning to reopen, allowing Americans to embark on their delayed summer road trips. Great resources to use to find where to go and what to do include contacting your AAA Auto Travel counselor for directions, ideas and advice. Not sure where you want to go or what you want to do? You can visit www.AAA.com/roadtrips. Pick a region and what interests you and it will recommend directions and places to stop along the way. A great place to generate some drive trip ideas. A visit to www.triptik.aaa.com is also a great resource if you prefer to plan on your own. This site helps you with your driving directions and even provides a map that shows COVID travel restrictions, closures, border crossing closures, national land closures, statewide travel restrictions by state and so much more. It can also help you determine which rest stops, gas stations and hotels are open along your route.
Many attractions remain closed, though Universal Orlando reopened June 5 and SeaWorld was scheduled to reopen June 11. Disney's Magic Kingdom and Animal Kingdom were tol reopen July 11 with EPCOT and Hollywood Studios to reopen July 15 (Editor's update: this is now under a possible delay due to the uptick in COVID-19 cases in Florida). Theme parks are taking unprecedented steps to reduce potential exposure to the virus – requiring face masks, social distancing, etc. – but they cannot guarantee travelers will not be exposed. Personal responsibility comes into play where people need to ensure they bring their own PPE's, use hand sanitizer and wash hands regularly and follow other safety recommendations.
AAA continues to monitor the near- and long-term impact to travel, including how COVID-19 will affect Americans' summer travel plans. While we don't yet know what the summer travel landscape will look like this year, we anticipate that we'll see a resurgence first in domestic travel and road trips once social distancing guidelines and stay-at-home orders start to diminish, especially if gas prices remain low. The wanderlust of travel is inspiring people now, so we remain optimistic that travel will grow quickly when it's safe to explore again. For now, we recommend that travelers stay informed and heed all official advisories from local officials, CDC and the U.S. Department of State. AAA Travel Agents and Auto Travel counselors are ready to help Americans when they are ready to plan their next adventure.
2. How have such places changed in order to operate under pandemic rules? What can I expect when I visit?
As hotels, restaurants and retail stores slowly begin to reopen, you will find that their ways of doing business have changed to follow CDC guidelines, state mandates and to ensure a clean, safe environment for their employees and guests.
You will find a trend toward outdoor seating-only restaurants, which may reduce seating capacity and require a wait or reservation for service.
Retail establishments have erected plexiglass at check out counters, limiting the number of customers allowed to enter at a time and in most states, masks are to be worn by employees and customers.
And you may find big changes at your favorite hotels. For instance, many are offering free or ?exible cancellation policies, so consider this when you make your selection. Also don't go without a reservation. Make sure the facility is open and available. And expect an even cleaner experience than in the past.
For instance, in an effort to ensure a cleaner and safer client experience, Marriott hotel room decor may seem a bit sparse in their décor to make facilities easier to keep clean. Instead of a chocolate on your pillow, you may find hand sanitizer or wipes for your enjoyment. Properties are following strict cleaning and disinfecting measures for consumer confidence. Hertz has created a new program – "Gold Standard Clean" – to allay concerns about safety and cleanliness. This program includes a 15-point cleaning and disinfecting process and a seal attached to each door to show customers no one has been in the car after cleaning. Look for hotels that have earned AAA's Best of Housekeeping badge. These hotels consistently demonstrate a commitment to the highest standards of cleanliness.
3. To stay as safe as possible during day or vacation travel, what types of things should people have on hand during their trip?
Before you go, always consider taking your car into a AAA Approved Auto Repair shop and ask them to do a trip check. To find one near you, visit aaa.com/autorepair. And make sure your AAA membership is up-to-date so you have peace of mind if you have car troubles while you are on your trip.
While packing, be sure to consider bringing face coverings, gloves, cleaning supplies, like disinfecting wipes and hand sanitizer, and a thermometer. If you can't find gloves, bring some plastic sandwich bags. They can serve as an effective barrier between your hand and a fuel pump handle, doorknob, hotel remote control, etc. Also, consider packing extra snacks to reduce the need to stop at restaurants – which may not be open or might be operating at reduced capacity. Make sure you travel with all necessary travel documentation, including health insurance cards. Be sure you have your cell phone and car charger and load your phone up with important apps such as the AAA app to find the best gas prices, hotels and discounts. Sign-up for the Shell Fuel Rewards® Program. AAA members can save up to five cents per gallon when filling up at participating Shell branded stations across the U.S. And as always, have an emergency kit in your vehicle. Consider this list of things to include and tips on where to stow them.
First-aid kit
Blanket
Drinking water/snacks for everyone in the car including pets
Flashlight with extra fresh batteries
Rags, paper towels or pre-moistened wipes
Basic set of tools along with duct tape and car emergency warning devices such as road flares or reflectors
Jumper cables/jump pack
Traction aid such as sand, salt or non-clumping cat litter
Tarp, raincoat and gloves
Shovel
If you are traveling by plane or train, pack face masks, gloves, disinfecting wipes and hand sanitizer for the airport and while on the plane or train. TSA has announced passengers are allowed one liquid hand sanitizer container up to 12 ounces per passenger in carry-on bags until further notice.
Remember! Travel is fun and it is all about the adventure. We now just need to learn how to make adjusting our packing and traveling habits to accommodate the changes presented by COVID-19. We at AAA are here to help with resources and services designed to take the effort out and keep the fun in your travel planning process, while protecting you along the way.