Technology and your health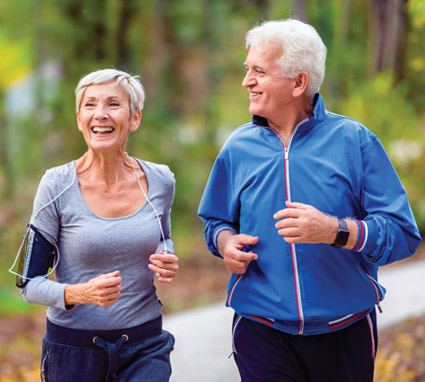 Innovations that help you reach your goals
Editor's Note: In March, Kate and the team at POST Computers take a look at some of the devices and apps that can help you keep your health and fitness goals on track.
By Kate Thresher and The Team at POST Computers
prime@pocosys.com
In the past several years, technology has had a less than stellar tie to health – especially when it comes to the health of our young people. Studies have shown that the amount of time that we spend sedentary is directly correlated to obesity, heart health, lung strength, muscle development, coordination, and more. However, what if I told you that tech companies and app developers are creating technologies to help improve your health?
Fitbit
When it comes to tech and your health, Fitbit is a frontrunner in the field. With several different options of wearable fitness trackers, Fitbit encourages more movement by both tracking activity, monitoring trends, and even reminding you to get up and move on a regular basis.
Fitbit has also created a phone app that pairs with your fitness tracker to show charts of progress, let you log food and calories, create workout plans, pair you with a personal trainer, partner with friends to keep each motivated, and more.
Fitbit wearable devices range in price from $69.95 for a basic fitness tracker to $249.95 for a smartwatch. Some models even come with built-in heart monitors and heart rate tracking – though they don't recommend using this in place of doctor advised monitors or pacemakers for those who have serious heart concerns!
Fitbit also has digital smart scales that pair with your phone and fitness tracker to better monitor progress that start at $49.95 and personal training subscriptions for $9.99/month. The app – which can be used paired with a device or on its own as a food and exercise tracker – is free from Google Play or the Apple App Store.
Glucometers
We have come a long way from monitoring glucose levels with periodic finger pricks and a notepad. Smart glucometers allow you to monitor your blood sugar through real time readings and a paired app to give you a better understanding of trends in spikes and dips, how your eating habits and exercise correlate with your sugar levels, and better doctor/patient understanding and collaboration. Some of these devices actually recognize trends to the point of being able to alert you of possible issues before they even arise!
Contrary to popular belief, these smart glucometers don't have to break the bank. iHealth has a device starting at $29.99 with test strips starting at 25-cents each.
Fitness, Weight Loss and Food Apps
With the plethora of fitness apps available, whatever your physical ability, there's an app for you!
Bring the benefits of a personal trainer to your home with your smart device. There are many apps that are free to download with free unlimited use such as FitOn, Workout for Women, C25K, and the 7 Minute Series. Some of these apps have optional paid upgrades and premium features, however, do not require payment for use. Some apps, such as 8fit and Gymondo, combine meal planning with workout routines to help you lose weight and improve your overall health. Programs such as Noom and Weight Loss Coach use an app interface to guide you through an interactive weight loss program with food tracking.
Many of these programs are paid subscriptions, but the app is free to download. In many cases, you can use the app without the subscription, but lose many of the beneficial features.
If you are only interested in food logging, apps such as Lifesum, Calorie Counter by MyFitnessPal, and MyPlate are simple, streamlined options.
Doctor - patient communication
Though the above apps, devices, and services are geared toward taking control of your own health, doctors offices are starting to embrace the technological world. Many doctors are now using app or online patient portals to communicate with their patients, refill prescriptions, send test results, and more. Some doctors even offer the option for basic diagnosis through their app.
If your doctor doesn't offer online diagnosis, there are other options such as Doctor On Demand and Teladoc. Though these services do cost, many health insurances will cover or compensate the cost, and depending on your situation, can be lower cost than travelling to the doctor or clinic.
Though not for everybody, technology has given us more and different options to take health into our own hands – and pockets.
However – before you try out any of the above devices or apps in a quest to improve your health and fitness, be sure to talk to your doctor to see if they are a good fit for you.
Disclaimer: I do not work for any of the above listed companies and have not been compensated for mentioning them in this article. Some of these products and services have not been personally tested. I am not specifically endorsing any of the above products. These products and services are not replacements for your health care professional and are only meant to be used as additional tools.
POST Computer Systems has been serving the Western Mass. community since 1992. Started in a basement in Wilbraham, the company continues to grow year after year thanks to the strength of their service department and the continued support from the local community.
If you have any questions or concerns, or to request a future Prime article topic, please reach out to the crew at POST Computer Systems by emailing: prime@pocosys.com