Keeping tabs on tech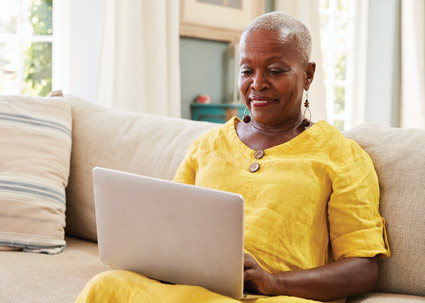 There's good and bad in being so connected
This month, Prime takes a look at two trends in the way we use technology, one that's increasing elder's connections to each other, another that's found a new way to propagate an old scam.
Project combats loneliness
The COVID-19 pandemic brought with it a rapid acceleration of telehealth as people looked for ways to access care safely. While technology kept many in the United States connected to care and loved ones, many low-income older adults were left behind by the sudden need to understand and access technology and Internet services.
However, among those who could stand to benefit the most from these services are 22 million older adults (those 65 years of age and above) in the United States who don't have broadband access at home. What's more, older adults (those 62 years of age and above) with an income below $25,000 are 10 times more likely to be off line at home.
Many older adults simply lack the technological literacy needed to leverage today's digital resources for health and social support.
New efforts are helping to address these inequities. CITRIS Health, an organization dedicated to advancing the well-being of older adults and family caregivers with enabling technology, recently launched "Lighthouse for Older Adults." This project is offering one-on-one training, in-language support and peer-based technical support to equip older adult residents of affordable housing communities with high-speed broadband access, user-friendly devices and digital literacy training.
Following an initial pilot, participants in the Lighthouse program reported both an increase in device usage as well as confidence in using their devices. Technology helped to connect them to loved ones they were isolated from, and improved their overall health and wellbeing by reducing social isolation and loneliness.
When asked about their favorite part of using a Google device, one participant stated, "Being able to connect visually with family and friends. And visually means a lot."
Those at the helm of the project say they hope its success will serve as a model for other such programs.
"Older adults have so much to gain from the connections and health care opportunities available with internet access and a basic understanding of technology," says CITRIS Health Director and Lighthouse Project Lead David Lindeman. "We're eager to see this program replicated to improve equity in telehealth."
For resources that can help other organizations implement similar programs, visit the Lighthouse project page on the CITRIS Health website, citris-uc.org.
The COVID-19 pandemic has made it clear that technology literacy and access are more crucial for older adults than ever before. When it comes to improving the health and well-being of communities, addressing this gap is essential.
Information courtesy of StatePoint Media
Email now popular for loan scams
The Better Business Bureau (BBB) Scam Tracker is receiving reports of scammers masquerading as legitimate loan providers. The phony lenders guarantee a quick loan with no upfront fees. But victims who provide their banking information to the scammers are left in the negative.
How the scam works
You receive an email advertising a guaranteed loan. The email displays a logo and contact information for what appears to be a legitimate loan company. Before proceeding with the offer, you search for the company online to determine if they can be trusted. You find that the name and contact information matches with a legitimate company, so you proceed with the loan.
Once you agree to the loan, the "lender" takes your personal banking information and deposits the loan into your account via a check. Then, they demand you buy insurance for the loan before the check officially clears. Unfortunately, the loan check turns out to be fake, something victims often don't realize until after they pay the "insurance." One victim told BBB, "The money will be available the next day, but then it will be rejected by your bank three days later."
These scammers know that consumers are increasingly aware of phishing attempts, so they use the identity of a business that can easily be verified online. This allows them to gain target's trust and get access to their bank account.
How to avoid fake loan offers
Avoid unsolicited loan offers. Scammers use offers of quick cash to lure you in – don't fall for it. Whether they contact you by phone, email or text or send loan offers by mail, approach all unsolicited offers for money with caution.
Expect a credit check. These scams often prey on people who may not easily qualify for a loan. No legitimate lender will provide you with a loan without performing a credit check.
Ensure the business contact information matches the email sender information. Brand identifiers can easily be copied and included in the body of an email, so the most important information for a consumer to verify is the email address of the sender. The domain for the email address typically matches the domain of the official website and should be free of random letters or numbers.
Research loan providers before accepting an offer. When doing business with an unfamiliar company, don't just verify they're legitimate by searching their name online because you could be missing surprising information. View ratings and reviews to see what other people are saying, and check for a BBB business profile.
You can connect with trusted lenders in your area by visiting BBB.org/search.
Be careful and watch out for "guaranteed" loans with upfront fees.
Report scams to BBB.org/ScamTracker.
Article courtesy BBB of Central Massachusetts. BBB of Greater Maryland was a contributor.