Paradise City Arts Fest returns to Noho Oct. 11-13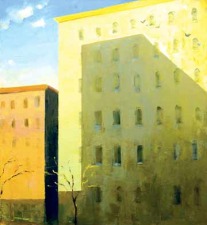 What is Paradise City?
A museum quality show and sale featuring 275 juried artists from every corner of America. Thousands of works in ceramics, painting, art glass, fine furniture, sculpture, jewelry, leather, metal, mixed media, photography, fiber, wearable art and wood.
When is it?
Columbus Day Weekend, Oct. 11- 13 Hours are Sat. & Sun.: 10 a.m..-6 p.m . and Mon.: 10 a.m.-4 p..m. Columbus Day Weekend marks the 14th anniversary of the Paradise City Arts Festival, the most exciting and comprehensive show of museum quality craft, art and sculpture in New England. Founded by Northampton artists Linda and Geoffrey Post, this event is a unique opportunity to experience an entire festival designed from an artist's perspective.
Where is it?
Indoors and under tents at the Three County Fairgrounds, located at Rte 9 & Old Ferry Rd , Northampton, MA
Special Features this year:
"The Many Faces of Paradise"a show of portraits. Vote for the People's Choice Award in the professionally landscaped Sculpture Garden. Live jazz relax to the artful sounds of Charles Neville on Saturday, Primate Fiasco on Sunday and Quetzal on Monday and . Festival Dining Tent! The tent looks out over foliage-draped hills, and offers up mouthwatering foods prepared by some of the region's most celebrated chefs. Sample delicacies from Spoleto, Side Street Cafe, India House, Mama Iguana, Great Wall and more, You'll find crisp salads, spicy curries, grilled kabobs and heavenly desserts. Admission: price: Adults: $12. Seniors/Students: $8. Weekend Pass: $15. Children under 12: free. In addition, parking is free and advance group sales discounts are available. For complete information on this year's show, call 800-511-9725 for complete show information or visit:
www.paradisecityarts.com