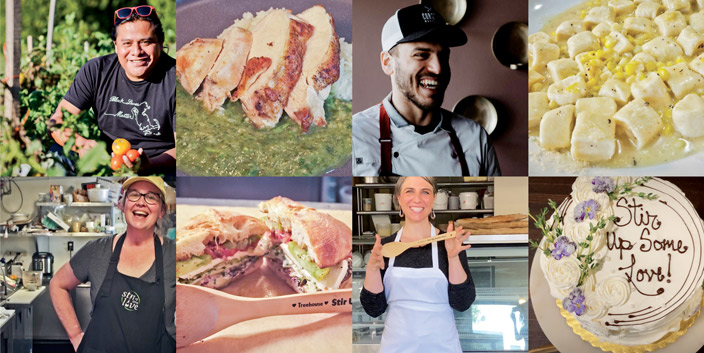 Writing a recipe for success
"Stir Up Some Love" helps nonprofit, restaurants
By Debbie Gardner
debbieg@thereminder.com
It's a given that fundraising during the coronavirus pandemic requires thinking out of the box.
Creating a fundraiser that not only supports a nonprofit, but also struggling local businesses, well, that's taking creativity to the next level.
That kind of next-level thinking is exactly what brought the Treehouse Foundation –- an innovative, community-based multigenerational approach to foster care based in Easthampton, MA – and a group of local restaurant chefs together to create a mutually beneficial fundraiser they dubbed "Stir Up Some Love."
Featuring 15 unique cooking lessons hosted by chefs from across the Valley, "Stir Up Some Love" (www.stirupsomelove.com) offers viewers the opportunity to learn more about a local chef ­– and prepare a favorite dish from their restaurant along with them – for a set donation. A single cooking lesson costs $20 to view
($275 for the entire series), with half of the proceeds supporting the work of Treehouse, the other half helping the restaurant survive during COVID-19.
"I'm so excited by "Stir Up Some Love," said Judy Cockerton, the 69-year-old AARP and Encore Purpose Prize-winning founder of Treehouse Foundation. "This is really a wonderful fundraising campaign [and] what I love the most is it's a win-win. While people are learning new skills, learning new recipes for all of these amazing dishes they are lifting these chefs and restaurants up, and they're donating to help children and families who have experienced foster care, and older adults, I just love a win win win."
Cooking up a new approach
"I don't know how the idea came about, we all just sort-of arrived at [it]," Julie Kumble, director of Strategic Partnerships and Development for Treehouse Foundation told Prime, adding that credit for the cooking
lesson fundraiser belongs to "our wonderful development committee of volunteers and a few board members."
Kumble mentioned chef and avid Treehouse supporter Unmi Abkin from Easthampton's Cocoa and the Cellar Bar and Grill as the potential spark for the cooking lesson concept.
"She has opened up the restaurant for the past two years for a fundraiser for Treehouse," Kumble said of the James Beard nominated chef, cookbook author and restaurant co-owner. "She's a wonderful person with wonderful food."
Then 2020 brought a pandemic, effectively shutting down not only the annual fundraiser, but also – at least early on – the restaurant that supports it. "It was a big hit for Treehouse," Kumble said, adding that the restaurant fundraiser was among a number of events the foundation had to cancel. That blow got the committee thinking about how much the restaurant community is the "heart and soul of the Valley," Kumble said, and the spark to find a way to "raise all boats" was ignited.
The committee came up with this "amazing idea" to produce a set of cooking lessons and "sell" them for a donation to both causes. Then the hard work began, Kumble explained. The first hurdle, Kumble said, was answering the question, "how can we make this work? There are all kinds of cooking demos all over the internet; how can we do this and have people click and pay?"
The committee "knew it would be complicated," she said, but forged on anyway. They located a web designer in New York City willing to work with the non-profit remotely, and contacted "a great culinary marketing team – the Lisa Ekus Group group" to help them pull everything together.
Finding the right "recipe"
Kumble said it really wasn't hard to find chefs willing to share a recipe and their skills with this new fundraising concept. " There's a lot of generosity" in the restaurant industry, she noted, adding the development committee decided to shoot for 15 initial episodes of "Stir Up Some Love." "We wanted the breadth of the Valley, all the way from Springfield up to
the Berkshires," Kumble explained, adding the initial roster of chefs includes "Two from Holyoke, a bunch in Franklin county and a bunch in between" the two areas. "We really wanted diversity in geography, types of food, types of chefs," she said.
Then it came down to the actual production work.
Kumble said she and Treehouse Foundation COO Beth Sprong became a two-person film crew for the episodes, all recorded in the early days of the COVID-19 lockdown.
"She and I, with our iPhones, recorded these cooking demos and we had video direction from a videographer and videos editor based out of New York," Kumble explained. "He was directing us from his laptop in his apartment during the middle of the pandemic...'camera A get in closer, camera B, get these angles,'" producing the "amazing videos" you see in the fundraiser.
What's on the "plate" for you
The cooking lessons, Kumble said, offer as much diversity as the geography covered by the episodes.
"We have how to decorate a cake, how to make sticky ribs, plus how to make things for vegetarians," Kumble said. "You also get an inside view into the [chef's] home or restaurant kitchen."
As an example, Kumble talked about the episode filmed with chef Kevin Sahagian from Captain Jack's Roadside Shack in Easthampton, MA. "He's making cod cakes in his house and he goes 'Hmm, I don't have a lid for this pot and I'm going to put another pot over it' then he talks about when 'I was cooking for the Boston Symphony for 10 years.' Wow, can you tell us this story, what was it like cooking for Yo Yo Ma?"
Kumble said beyond the stories and the recipes, episodes also provide practical cooking tips home chefs can use.
"You see people on cooking shows flip food in a pan, [one episode has] 'here's how to practice without food.' There's an episode that shows amazing knife skills. And there's lots of tips and bloopers," she shared.
Each episode also comes with a downloadable recipe so you can follow along and cook at home, as well as the tips and tricks.
Dishing it out weekly
The first episode of "Stir Up Some Love" became available for purchase on Sept. 17, with a new episode opening on the website every Wednesday through December 23. Kumble said WSRI The River radio personality Monte Belmonte previews each episode on his Thursday morning show at 8 a.m., interviewing the chef of the week and giving a review of the food he samples. When Prime spoke to Kumble after the second episode had dropped, she told us the fundraiser had already raised $10,000, which would be shared between Treehouse and the restaurants.
"The cost is only $20 for an episode, and [the proceeds are] split 50-50 between our nonprofit and the restaurant," Kumble said. "When you buy the whole season you get a discount because each episode is a minimum of $20; if you buy them individually, that is $300. You can get the whole season for $275" with the proceeds of that sale split between Treehouse and all the restaurants.
"But if you can only buy a single episode, buy an episode." Kumble said.
She added there's already talk of creating a Season Two of the successful fundraiser.
"We invested a lot of time and resources in building the website and infrastructure" for this fundraiser, Kumble said. "People really love this, they love cooking at home and [want to learn more]."
The chefs, too, are excited about sharing their skills, and supporting Treehouse.
"Treehouse is important to me because I have several family members who went through the foster care system," chef Nicole Ortiz of Holyoke's Crave Food Truck is quoted as sharing on the Stir Up Some Love" website. "I'm glad to raise awareness and spark change locally that helps change the system."
In the fundraiser's introductory video on the website, chef Drew Brown of HighBrow Wood Fired Kitchen & Bar in Northampton explains that he got involved with the project because "Treehouse holds a special place in my heart. My mother and adoptive brother live there."
What you'll be supporting
Kumble said not only is this fundraiser helping to keep many in the Valley's restaurant industry alive – "They are really struggling to keep heads above water; many are working harder than ever and wondering 'how do I keep my people employed'" in the face of the changes the pandemic has wrought to their business, she said – it is also supporting one of the nation's truly innovative approaches to reinventing the foster care system for both children and families.
"Treehouse is a community of 120 people with 12 families with foster adoptive kids," Kumble explained. "Then we have 48 elder houses or cottages sprinkled about the community." She said this multi-generational approach provides a "village" in which to raise foster children, who are often overlooked under the traditional foster system, while providing meaningful purpose for the elders who act as "adoptive grandparents" to the parents and children.
Founded in Easthampton by Judy Cockerton in 2006, Treehouse is a collaboration between three partners- Beacon Communities, a major community development company in New England, Berkshire Children and Families, now known as 180 Degrees, and the nonprofit Treehouse Foundation staff, which coordinates the services for families in its community.
Cockerton, a former teacher and toy store owner originally from Eastern Mass., said she became involved with the foster care system in 1999, after reading a distressing article about a 5-month old foster care child who was kidnapped from his crib in the middle of the night. She was 47, her husband was 48, her children 16 and 18 years of age at the time.
"Our family came together and decided 'this can't happen,'" Cockerton said.
Once a part of the system, she realized how much it needed to change to better support the families working to take care of foster children. "I tried to learn the most I could about the system, who was doing the most exciting work – and as I began to learn more and more, I learned that every year 25,000 children age out of foster care" with no support system and no plans for their future.
"I remember I was holding a 5-month old and a 17-month-old when I learned that statistic, and thinking, 'these young babies are so full of spark ... not on my watch. I'm a teacher, I'm an educator,- I'm a business person, I'm a mom, I create programs.'"
Cockerton sold her Brookline toy stores in 2001 and in 2002, created Treehouse as a 501c3 non-profit. The Easthampton Treehouse community opened in 2006. Today, people describe the AARP and Encore Purpose-prize-winning program as an "intergenerational community designed to help support foster and adoptive families," Cockerton said.
Kumble said the "proof is in the pudding" with the Treehouse model of foster care.
"In any school you don't have a 100 percent high school graduation rate, or student body that goes on to college, especially not foster kids," Kumble noted "Their typical path is aging out of foster care, ending up homeless, and involved with drugs. But you can do it. We have data that proves that [the outcome] can be different."
According to its website, the Treehouse high school graduation rate is 95 percent, with 100 percent of its graduates attending a vocational training or college program after high school.
Cockerton said the Treehouse model is celebrating its 14th anniversary this year, with its concept already in the process of being replicated in Eastern Mass. and considered in a
location out west. "We're working with our housing partners and our child welfare partners to create one in Greenfield" too, Cockerton said, adding that 40 percent of the state's foster care children live in Western Massachusetts. "We'd like to see a string of Treehouse communities across the state."
The Treehouse model, she said, is, in essence, a community where "members of all ages are a vibrant neighborhood" and old and young are friends and a support system for each other. "Ted Koppel said [of the Treehouse concept] this idea is so old, it's new," Cockerton said.
For more information on the Treehouse foundation, visit www.treehousefoundation.net.
To support the "Stir Up some Love" fundraiser, visit www.stirupsomelove.com.