Love 'Fair Food?'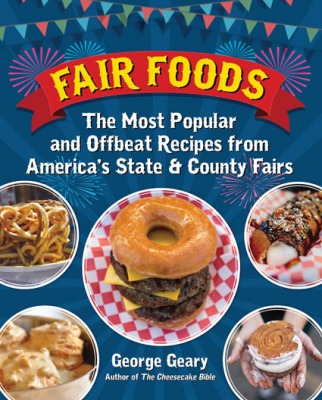 This cookbook's for you!
By Debbie Gardner
debbieg@thereminder.com
The 5,500 car response to the two-day drive-through "Taste of the Big E " in late June – when people waited in line for up to four hours on Memorial Avenue to get the chance to purchase favorites such as corn dogs, fried Oreos, loaded tater tots, Big E cream puffs and Greek Gyros – made one culinary truth perfectly clear. People really love their fair food, and they'll go to great lengths to recreate that once-a-year gastronomic experience.
If you didn't make it over to the "Taste" – or you're just craving more of those outlandish creations and you don't mind a little time in the kitchen – you're in luck. There's a cookbook for that, chock-full of 120 recipes – from drinks to main dishes to "fried everything" to desserts – that will let you satisfy some of those cravings at home.
Top chef takes on a trend
Brainchild of LA-based culinary author, educator, TV personality and former Disney pastry chef George Geary, "Fair Food: The Most Popular and Offbeat Recipes from America's State & County Fairs" is a compilation of recipes designed to let home cooks bring the fair food experience to their own kitchens.
If Geary's name sounds familiar, that's no surprise. Foodies might recognize him from guest stints on popular cable shows – he's worked as a critic and/or judge for ABC's "The Taste" with Anthony Bourdain and "The American Baking Competition" with Jeff Foxworthy. He's also appeared on other popular shows such as "Hell's Kitchen" and "Supermarket Superstar." If you started watching the newly-created Food Network back in1993, you probably saw a young Geary on segments with Robin Leach.
Are you a cruise fan? If you were a guest on one of Holland America's longer voyages in the early 2000s, Geary might have been your onboard chef and lecturer – he worked with the line for over eight years, traveling to over 180 countries.
If you're a cookbook collector, you might have discovered him through one of his other tempting tomes – "The Complete Baking Cookbook," "500 Best Sauces, Salad Dressings, Marinades & More" or the decadent "The Cheesecake Bible."
But Geary's "Fair Food" book is something very different – and close to his heart. In the introduction the multi-talented chef shares his roots in the fair circuit.
"For 28 seasons, I was involved in the largest county fair in the country: the Los Angeles County Fair. I started out on a panel of professional judges, assessing everything from cakes and pies to cookies and everything in-between," Geary writes. "In those 28 seasons, I watched as the focus of the fair moved from blue ribbons and homemade pie bake-offs to the rows and rows of vendors that now hawk crazy food combinations from their stands." Around 1980, he said he could see the trend for "classic" fair food changing from cotton candy and Sno-cones to much more exotic creations, and he started noting the trends.
The ultimate 'Fair Food' bible
Prime recently reached out to Geary to learn when his fascination with America's changing fair food tastes evolved into the idea for his cookbook.
"Every year the food vendors would try to create something new that was the biggest and or strangest," Geary said, noting how the motto for many a fair's culinary offerings seemed to become simply "Fry Everything."
And he noted how that quest to create foods that were "big and strange" seemed to fit the evolving mood of fairgoers – both at his home fair in LA and across the country – as the years passed.
"[It's] the decadence of the food once a year! People want to splurge on something 'sinful' and the fair is the perfect once-a-year event to do so," Geary said. He said he seriously started collecting recipe ideas after doing "a show competition for Food Network Canada, on fried foods. After that, I knew that I had to start looking at the food at a fair as an art and legitimate cuisine," Geary shared.
Geary created and tested all the recipes in the book himself. "The vendors mainly use second [meaning pre-prepared] sources to manufacture their products for ease," he said. That said, he had one important caveat to share with those who might be trying to follow the "Fry Everything" fair food cuisine motto: "Make sure for the fried items that you have used a thermometer. Under-fried items taste horrible."
Speaking of fried foods – Geary said there was one "Fry Everything" food he encountered in his research that he didn't include in the book: fried frogs legs. But the book does include plenty of longtime fair food classics, including funnel cake, turkey legs, ice cream and Geary's personal favorite – corn dogs. The recipe in "Fair Foods" for that perennial staple has its own history, he said.
"I was the Pastry Chef for Disneyland and in the late 80s to help with attendance on off season, they created an event called 'The County Fair,'" he explained. "It also was the same time that one of the main restaurants (The Plaza Inn) on Main Street was going down for rehab. They had to serve something close by, so they came out with this older looking camper thing and asked me what I thought.
"I said 'we could do Corn Dogs.' I modified the cornbread recipe that I had created a few years earlier for the Big Thunder Ranch Barbecue. Well those were so popular, that today every park worldwide has the corn dog that I created on their menus!" Geary shared.
One to try now!
For those looking for a quick sample of the recipes – and preparation tips – you'll find in "Fair Foods," here's one for a Big E staple, the Fried Twinkie®, reprinted with permission from Geary and the book's publisher, Santa Monica Press LLC.
Deep-Fried Twinkies
The Texas State Fair in Dallas was the first to offer this sinful treat.
Special Supplies:
Dutch Oven
Candy/Deep Fry Thermometer
Skewers (6)
Baking Sheet,
lined with Parchment Paper
Paper Towels
Makes 6 Twinkies
Ingredients:
6 Twinkies®
3 cups all-purpose flour
3 tbsp. granulated sugar
3 tsp. baking powder
1 tsp. baking soda
3/4 tsp. sea salt
1 cup buttermilk
1/2 cup whole milk
3 large eggs
3 tbsp. unsalted butter, melted
Canola oil
Confectioners' sugar
Method:
Skewer each Twinkie® and place on baking sheet lined with parchment paper. Freeze for two hours.
Meanwhile, prepare the batter: In a large bowl, whisk together flour, sugar, baking powder, baking soda, and salt. Set aside.
In a separate bowl, whisk together buttermilk, milk, eggs, and melted butter. Pour into flour mixture and blend just until smooth.
In a Dutch oven, heat two inches of Canola oil over medium heat to 375°F.
Working two at a time, dip the Twinkies into the batter until fully coated. Place in the hot oil, turning after a few seconds until all sides have reached a light brown color, about four to six minutes.
Drain on paper toweling, the dust with confectioners sugar
"Fair Food: The Most Popular and Offbeat Recipes from America's State & County Fairs" by George Geary is available at Barnes & Noble, Target and on Amazon.com.
*You could win a copy of Fair foods! Look for the contest here!