Hiking the 'Trail'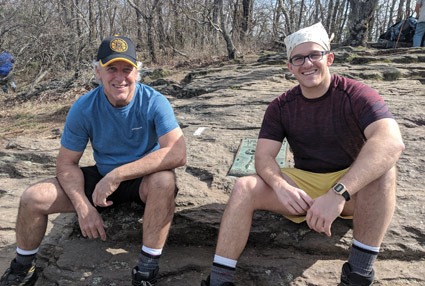 Father and son share stories from their Appalachian Trail adventure
By Debbie Gardner
debbieg@thereminder.com
Their initial inspiration may have come from the pages of Bill Bryson's 1998 book, "A Walk in the Woods: Rediscovering America on the Appalachian Trail," but the five months that father and son hikers Ken and Andrew Johnston of Wilbraham, MA, spent traversing the backwoods of the Northeast from Springer Mountain, Georgia to the top of Mt. Washington in New Hampshire was so much more.
"The single greatest highlight of my hike was sharing it with my dad. Our relationship is forever different, forever deeper, and forever better as a result of the time we spent together. I will cherish the memories for the rest of my life," 26-year-old Andrew reflected, writing about the journey he shared with his 62-year-old father, Ken, in an email to me just days after their hike ended on Mt. Washington in early September. "On the best days, a long-distance hike along the Appalachian Trail is a journey highlighted by beautiful vistas and a deeper connection to your own existence. It is beautiful in its simplicity. It is, as Bill Bryson so rightly calls it, 'A Walk in the Woods.' On the worst days, a long-distance hike along the Appalachian Trail is sopping wet boots, physical and mental exhaustion, rocky and root-filled terrain, or some other idiosyncrasy of life in the woods that seems designed to challenge your resolve."
Yes, the Johnstons told Prime during an early-October post hike interview, tackling the Appalachian Trail was the experience of a lifetime. And no, despite months of planning, preparation and consulting with former Trail trekkers, they weren't really prepared for all that hiking the Trail truly entailed.
Ken said he'd set out with a bit of a romanticized image of the journey from the pages of Bryson's book, but that image was "totally not like the Trail at all."
An adventure with purpose
I first "met" the Johnstons – and learned of their trek – through a late-July email from Quincey Spagnoletti, a media relations specialist for Dana Farber Cancer Institute in Boston. Spagnoletti contacted me to let me know the Johnstons of Wilbraham – who were hiking the Trail to raise money for Dana Farber in honor of Ken's mother who had died of brain cancer – had just crossed into Massachusetts. She was hoping our sister publication, The Reminder, might be willing to write a piece about their journey to help the pair's fundraising efforts, which at that point had only reached $12,653 of their $21,800 goal – $10 for each mile they intended to hike. I emailed back I'd love to do the story for The Reminder.
About a week later, Andrew called my office phone from the top of Mt. Stratton in VT.
"I'm in a fire tower 125-feet up to get cell service," Andrew joked during the call, adding that his dad was a bit behind him that day, but he expected to meet up with him when he climbed down. During the course of that call I learned that Ken, who had retired from a long career at Williams Distributing in 2017, had been thinking about – and planning – to hike the Trail "on and off" for nearly two years and that Andrew, who said he had gone from college straight into a career as an innovation and strategy consultant in Boston, had reached a point in life where he was looking for some
perspective. "I regretted not doing something between high school and college, or after college [and my first job] and this seemed like the right time [to do it]," Andrew said of his decision to hike, adding his mother had urged him to join his father, concerned about Ken hiking the distance alone. The Dana Farber connection, he said, was two-fold : his dad's boss at Williams Distributing had sat on the Institute's board of directors for years – so they knew about the work it did with and for cancer patients – and his dad felt the fundraising would add purpose to what he had learned during planning would be a "physically and mentally tough journey."
The two said they made the firm decision – Ken to "step away from his life for six months" and Andrew to "leave his job" – to hike the Trail, in December of 2018. They stepped onto the trailhead at Springer Mountain, GA., this past March.
The best laid plans
During that Stratton Mt. cell call, Andrew confessed that neither he nor his dad had ever done a long-distance hike before they set out on the Trail. He said his dad – who was not an experienced hiker – "trained" by doing day hikes up the Seven Sisters in Western Massachusetts, but had never camped out before their first night out of Springer Mountain. He, on the other hand, had eight years of experience hiking in Vermont and New Hampshire, but nothing longer than two-to-three-day trips.
When we met in person, Ken went into a bit more depth about their preparations for their Trail hike. He showed me copies of pages from "AWOL on the Appalachian Trail" by David Miller – a guide penned by another thru-hiker that he used as a bible for planning, and while hiking. Rather than a tale of a journey, this book provides exacting details about important facts of trail life.
"He describes everything along the trail – water sources, distances used for planning… he would go
'two-tenths of a mile from point x there is a shelter,'" Ken explained. "There were symbols for water, privy, tent sites and more."
The pair also leaned on "a couple of guys" they met through Recreational Equipment Inc. in Boston, who "had hiked the trail and became our most trusted resources to get the right gear, get the right materials [and] planning strategies," Ken said. These men also shared Internet resources about planning the hike that Ken said were invaluable.
"One of these gentlemen – a young ex-Marine and EMT – had hiked the trail two times. If I hadn't talked to him I wouldn't have hiked the 1,900 miles [I did]. He gave me so many pointers and insights," Ken said.
Even then, their carefully thought-out preparations did not always pan out.
"We started out with one two-man tent, and at mile 31 [out of Springer Mountain], we had to buy another tent." Ken said. They had spent part of the day before "in a hailstorm," he shared. "We were both crushed into [that two-man tent], cold, wet, and right there we decided we needed two tents to survive."
Andrew said they "learned a ton in those first three weeks" on the trail. "One of the traps we fell into was 'we're going off on this epic adventure' but we learned the reality is preparation and perspective.
"In hindsight it would have been better to test a lot of the gear on shorter trips," he added.
They also discovered they weren't alone in their inexperience.
"You aren't out there [on the Trail] with mountain men," Andrew said." But with others who have made the crazy decision to do this."
The reality of trail life
At the beginning, with all the camaraderie, the Johnstons said hiking the Trail is a bit like a party.
"You meet people on there who are very kind and very helpful, especially down South," Ken said. He recounted their experience staying at a hostel on a Sunday in North Carolina, and being told, "A church will come by with a van at 9 a.m. to get you, give you a pancake breakfast and bring you back to the trail." He said these church people also took their picture and gave them the opportunity to write a note home, which the church subsequently mailed to Ken's wife.
"That's common when you are starting out….it's a cool experience," Ken said. At several points when the Trail ran near access parking lots or crossed main roads, Ken said they also encountered "trail angels," people who would hand out water, or cook hamburgers or supply other food – and encouragement – for the hikers. They also frequently encountered friendly people who would give them rides from the Trail to the nearest town to find a Wal-Mart or Dollar General for their every three-or-four-day resupply trips.
Early on, "The vistas, that's what keeps you going," Ken said. But that euphoria begins to wear off as the miles add up, Andrew observed. "I think going further north, it's less about the terrain getting harder, it's that the honeymoon phase is over."
At this point "the trail hasn't broken a lot of people yet," he said. Then you hit what he called The Virginia Blues.
"It's a 350-mile walk when you cross the [Virginia] state line," Andrew said, adding getting that far on the trail is the first "milestone."
But that milestone also starts to make the magnitude of the Trail walk very real for many hikers, Andrew observed. "They develop a mood [and] begin to think, 'this is a very long walk'... you get to Pennsylvania and its [been] 1,100 miles… the half-way point is Harper's Ferry… and people start to think, 'holy s**t, and I still have 1,100 miles to go.
"By the time you get to Connecticut, you begin to wonder if the reason you are waking this hike is the same reason you started. You begin to wonder, 'Why am still I out here?' … ''What am I giving up to do this?'" Andrew shared.
Tales from the trail
But the distance, and the weather – "Breaking down when its raining, setting up when its raining, those are the toughest days," Ken observed – aren't the only obstacles hikers face along the Trail. Ken said that Lyme disease was a real threat – often taking fellow hikers off their trek for seven to 10 days while they received treatment for the disease. Then there's the wildlife, including rattlesnakes and copperheads. "You are on so many rocks you can't worry about them, or you don't go forward," he explained. And there are black bears; they saw "quite a few."
Andrew recounted one particularly startling encounter in Pennsylvania:
"You do not grasp the sheer size of a black bear until you encounter one while you're in the woods by yourself. You also rarely have as spiritual a connection to the world as you do when you look one in the eye. That said, I would not recommend getting as close as I did in one particularly awesome and terrifying run-in with a male black bear.
I was hiking out ahead of [my dad], which was normal for us. I knew he'd be coming along in the next 10-15 minutes and I wanted to collect enough water for both of us so he wouldn't have to make the extra walk to get his own. I came to a marked side trail that led to a water source, so I dropped my pack and began walking down it. It was still early in the day, so the sun had yet to burn off some of the low cloud cover that hung in the forest. The cloud cover meant I could hear the water long before I could see it. As it finally came into view, I was surprised at how close I'd come before getting a visual – I was only about 10 feet away. As I began sizing up the quality of the water source and figuring out where I wanted to collect water from, I heard a rustling.
Now here's the thing to know about rustling in the woods. No matter how loud or quiet, rustling from an unseen animal while you are alone in the woods it ALWAYS sounds like a bear. Always. In this case, as I saw him approaching the water source from the opposite side – this time I could verify that it was a bear. A hulking male black bear. 15 feet away, separated only by a meandering brook. UH. OH.
When he came into view I froze instinctually. As he kept coming closer, I realized that the same clouds that had obscured my view had left him naïve to my existence. Many things run through your head during a bear encounter, chief among them the actions one should take: make loud noises, look as big as you can, don't make eye contact but make sure you are always facing him so you don't look scared.
Because I'd never had the opportunity to observe a bear like this before, I gave myself a few moments to enjoy his presence. He moved slowly, meandering towards the water as only an apex predator can. I couldn't believe how enormous he was, nor could I believe that I was getting this type of opportunity to witness him in the wild. After what felt like a minute, but what was surely no more than 15 seconds, I came to my sense and began yelling at the top of my lungs and waving my arms. He took off like he was shot out of a cannon (nearly all black bears do – they're very skittish animals).
I can't really describe the feeling of being alone in the woods with a bear like that. I don't know if I'd sign up for it again, but it is certainly one of my most memorable moments on trail."
Making an end
Ken said he'd had some passing concerns about hiking the trail from the planning stages, but didn't run into issues until he and Andrew hit New Hampshire. "The average hiker is 25, I'm 62, but I thought I was in pretty good shape," Ken said. But the uneven terrain of the White Mountains – "It was like stepping from triangle to triangle, not flat rock to flat rock," he said – combined with two previous knee surgeries made the going pretty tough.
"A 40-lb pack on your back changes hiking," Andrew further explained. "I'd climbed mountains before, but [the pack] changes it so much. It puts pressure on your joints, you tire more quickly, and it also makes your body unwieldly." It was also, Andrew said, one of the most beautiful parts of the Trail to hike.
Beauty notwithstanding, Ken said he became increasingly concerned he would end his hike on a stretcher with a bone break or a concussion. So in mid-September, after the pair had summitted Mt. Washington, they ended their Appalachian Trail adventure. Even short of the official trail end at Mount Katahdin in Maine, the pair raised a total of $23,485 for Dana Farber, surpassing their initial goal of $21,800.
They ended their adventure with "trail names," – "Wizard" for Ken: "When my hair grew out, I looked like Doc from 'Back to the Future,'" he said – and "Redbeard" for Andrew and his full red whiskers. Both said they also came home with a deeper appreciation for both the country they call home, and of each other as a person.
"I didn't find out a lot of things about Andrew that I didn't know, that made me feel good," Ken said, adding that he did get to appreciate how easily his son could talk to others on the trail, a skill he felt he was weaker in. Andrew said the entire experience meant so much more to him because he did it with his father. They might have each had their own hiking styles – and a few arguments along the way – but they ate breakfast together every morning, and dinner every night, sharing stories of their experiences on the trial.
"We learned to have so much more respect for each other," Andrew said, "We saw how much more difficult [this trip] was for each other.
"I saw him grow into the person I knew he was," Andrew said of his father. "This experience rips you up physically and emotionally [and] I am so proud of him."
Andrew said the two made a commitment to each other at the end of the Trail "to try to be kinder [and] to be more committed.
"Those are the things I walk away from this walk with," he continued. "And I have a more profound respect for my dad. I see him as a person."
For both men, Ken said, the experience ultimately provided perspective.
"It does change how you think about life," he said. "Everybody should try hiking the Appalachian Trail. You come out with a different mindset."
And though Ken said his feet are still numb – "They call it 'Christmas toes – you'll feel your feet again by Christmas,' – and still feels like his body sinks when he tries to sleep in a regular bed, he's thinking about making a stab at finishing the final part of the trail in the future. They befriended a fellow hiker who will be tackling the Trail again in 2021, and he might join up to "finish the last part."
Editor's Note: for more photos visit https://www.instagram.com/johnstonjourney2180/?hl=en