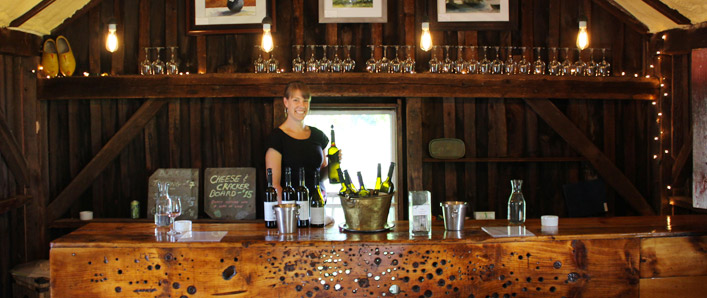 Hidden Gems
Area wineries produce exceptional offerings
By Debbie Gardner
debbieg@thereminder.com
Ed and Mary Hamel, two of the four owners of the increasingly popular Black Birch Vineyard in Southampton, MA., didn't set out to own a winery.
"Ed and I have lived on the farm for 22 years. He always wanted a crop, but was never to excited about any particular one," Mary, a recently retired dental hygienist, said of her contractor husband. "He bought some books about making a winery, read them and decided, no, it wasn't for him."
That was until friends Ian Modestow and Michelle Kersbergen spotted the books during a dinner party.
"Ian looked over the books and two hours later, we were going forward with the project," Mary said.
That was 2010. The first year, the Hamels planted 10 grape vines and the foursome started to make wine together.
"It was going to be just for us," she said. "But within that first year we decided that if you are going to make wine, and you need all this equipment, you cannot do it if you aren't going to do it on a commercial scale."
Modestow – who now acts as the vineyard's winemaker and manager – entered wine from that first season in an amateur winemaking contest. The reception, Mary said, was very positive.
"He was very excited about it and we were very excited about it and the whole thing has grown," Mary said.
The Hamels continued planting grape vines until the vineyard now encompasses five acres. And they continued making white and red wines while the vines matured – purchasing Northeast-grown whole grapes from the New York State Finger Lakes, Southeastern Massachusetts and Long Island. In late May, they bottled their first estate-produced wine.
"We have only 200 to 250 bottles," Mary said "But we were happy with the taste and the mouth feel. We were pleased and know we're going in that direction."
The tasting room at Black Birch Vineyard, located at 155 Glendale Road, is open Fridays, Saturdays and Sundays from noon to 6 p.m. The tasting menu includes 10 wines, available as 1 oz. samples or for purchase by the glass. Hamel said visitors are welcome to bring a picnic and enjoy the vineyard's view of the Seven Sisters. Every other Saturday night from June through September, the vineyard also hosts an outdoor music series. For upcoming entertainment, and other info, visit http://blackbirchvineyard.com
A Western Massachusetts winery tour
According to Hamel, Black Birch isn't the only local vineyard producing wine and offering tastings in the greater Springfield area.
"Raven Hollow is a new [vineyard] in Westfield, that's about seven miles from here," Mary said. "Mineral Hills is just four miles from us [in Florence, Massachusetts]. That makes it nice and easy to go visit another winery" in one day.
Gene Kosinski, owner of Raven Hollow Winery – a division of Kosinski Farms Store & Bakery in Westfield – said his winery and tasting room opened to the public on Aug. 1, 2014. Unlike Black Birch, which offers only grape wines, Raven Hollow's menu of 14 wines includes both grape and fruit-based varieties.
"We started with three very simple wines – a blueberry, a strawberry and an apple," Kosinski said, adding that fermentation began in December 2013, shortly after the winery received its permits. "We had plenty of apples in storage, we had a lot of blueberries in storage and a half a ton of strawberries in storage; we unfroze them and put them in the tubs."
Vintner Jason Baade, whom Kosinski met through his daughter, a professor at Brandies University in Waltham, MA., oversees production at Raven Hallow.
The winery's raspberry wine, pressed July 1 of 2014, won an award at an international competition in New York's Finger Lakes in April.
"There were 3,800 wineries represented," Kosinski said. "I felt pretty good about it."
Currently Raven Hollow's grape wines are made with California produce – "It's hard to get the right variety to grow in this area, it will take a few years," Kosinski said – but the fruit wines, from the new strawberry rhubarb to the award-winning raspberry, are made from farm-grown fruits.
"That was the main reason we started [the winery], to use all this fruit," Kosinski said.
Raven Hollow's tasting room, located at 436 Russellville Road, is open 4 to 6 p.m. on Thursday, 4 to 8 p.m. on Friday, 1 to 8 p.m. on Saturday and 1 to 6 p.m. on Sunday. The winery offers live music from 5 to 8 p.m. on Saturdays in the summer.
"People can sit under our tent, buy a bottle of wine or a glass of wine or do a tasting, listen to some music and enjoy the summer weather," Kosinski said. For more info on Raven Hollow, visit www.ravenhollowwinery.com.
Mineral Hills Wineryat Godard's Red Hen Farm in Florence, MA., has been making mead and fruit wines as hobbyists since the 1980s. In 2005, the farm added grape vines to its agricultural mix, and in 2008, became a licensed winery.
Like Raven Hollow, Mineral Hills offers both grape and fruit-based wines, along with mead (a honey-based wine). The tasting room, located at 592 Sylvester Road, is open Fridays, Saturdays and Sundays from 11 a.m. to 5 p.m.

Explore the Massachusetts wine culture
According to Kate Levine, director of the Massachusetts Farm Winery and Growers Association, Black Birch, Raven Hollow and Mineral Hills are just a sampling of what awaits wine enthusiasts.
"Massachusetts wines are as diverse as our landscape! We have crisp clean white wines, amazing sparkling wines made using the traditional (Champagne) method, fruit wines, mead, hard cider, lighter red wines like cabernet franc or pinot noir. Massachusetts also boasts many bold delicious reds that are produced in state with grapes from other locations. The best way to learn more about Massachusetts wine is to visit the wineries and try some! You will be amazed at the breadth of wines available," Levine said.
For winery locations, tasting hours and more, visit www.masswinery.com.