"Good Night, Dear Hart, Good Night"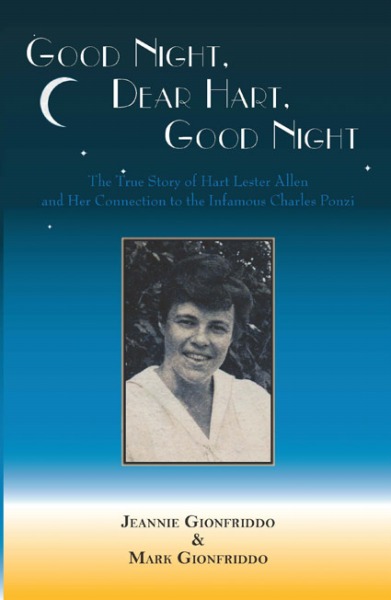 Gionfriddo's book hopes to set record straight on Ponzi downfall
By Debbie Gardner
It was a promise that took nearly 40 years to fulfill.
In November, Epigraph Publishing released "Good Night, Dear Hart, Good Night," Mark and Jeannie Gionfriddo's historic retelling of the life of their tenant and friend, Hart Lester Allen.
Allen, a Smith College alumnae and longtime Holyoke resident, was the widow of Joseph Allen, the Massachusetts Bank Examiner whose actions helped to bring down notorious Boston con man Charles Ponzi in the 1920s.
"She wanted her husband exonerated," Jeannie told PRIME during an interview about her desire to tell Hart's story. "He was the reason Ponzi went out of business. After he closed the banks Ponzi couldn't access his money and pay his investors and that's when they really started investigating him."
The 'gift' of a tale
Jeannie said she and Mark came across Allen's story – and her connection to the infamous Ponzi – somewhat by accident. They inherited the aging widow when Jeannie and her husband, Roy, bought a two-family home in Holyoke in the early 1960s.
"When we purchased the house in 1964, the previous owner had one stipulation, that [Allen] could live here as long as she liked," Jeannie said, explaining that Allen lived in the apartment in the front (now Mark's) while she, Roy and a young Mark occupied the main part of the house in the back.
Mark and Allen soon discovered a mutual love of classical music, and a friendship ensued.
"She would invite me over to listen to music when I got out of school." Mark, who is now Music Director at Mount Holyoke College, recalled. "She had a sterling silver letter opener [and] I used it as a conducting baton.
"She was like a grandmother to me," he added.
Jeannie, too, would chat with Hart from time to time, and began to hear snatches of her life after graduating from Smith in 1917, her marriage to Joseph Allen, and of crime, schemes and the roaring 20s in Boston.
When Allen's health began to fail in the 1970s and she moved to a nursing home, Jeannie took it upon herself to visit her former tenant, whose husband and adopted son had both died of leukemia many years before.
Soon, she was stopping by to chat with Allen about three times a week.
"She stated telling me some amazing stories about her life, I couldn't believe it," Jeannie said. "I started taping [them] and asked if she felt it would be okay if I wrote a book from [the stories]."
She said Allen loved the idea.
"She especially wanted to ask if we could present her husband in a good light," Jeannie said. "People thought he was the bad guy because he closed the banks in Boston.
"She thought [the book] would be a good way to show her husband as who he really was," Jeannie said.
Tag team authors
Jeannie was already a working writer when she and Mark set out to turn Allen's reminiscences into a book; she'd penned a column in the Polish Star, had a short story, "Murder at the Waldorf Astoria," published in EJAG magazine, a publication for Jaguar car enthusiasts, and had written a cookbook.
Mark, by then a student at Skidmore College in Saratoga Springs, New York, took over much of the research to track down factual references to corroborate Allen's stories. His main resources were the Springfield and Boston Public Libraries.
"We just wanted to make sure we had the Ponzi part correct," Mark explained.
He also began helping his mother with the writing, and workshopped a couple of chapters in a college intensive writing class.
"My professor thought it was a pretty good story, and wanted to hear more," he said.
In all, Jeannie penned 16 of the chapters in the book, and Mark, eight.
"I wrote most of the romantic, florid stuff and my mother wrote all the blood and gory stuff," Mark said. "Not to sound stereotypical, but you would think the woman would write the romantic and the man the bloody stuff."
The hardest part of the collaboration, Mark noted, was maintaining the same voice throughout the book.
"He would write not with me – in another place – and then we would have to put [the chapters] together," Jeannie said.
Mark, who said he "somewhat" learned the craft of writing from his mother, noted the pair soon discovered his writing voice was "similar" to hers.
"I saw it as another challenge," Mark said of writing the chapters he contributed. "I've always been able to write music and it seemed writing a story, writing the chapters of a novel – it's just another extension of the creative process."
The right moment
The first draft of the "Good Night, Dear Hart, Good Night," was actually completed by 1984, but Mark said the pair "weren't really sure what to do with the book. Back then it was difficult to get something into print, you had to have an agent."
Around that time, Jeannie and Roy bought an ice cream franchise and "got very busy doing that," she said,
So the book was put aside for years. Then, in 2009, the Bernie Madoff scandal broke, and the specter of Charles Ponzi began haunting the financial news once again.
"They kept mentioning Ponzi every day and we thought, 'we've got this great story, we should do something with it'," Mark said.
"I started asking a couple of my college colleagues that had been publishing books, 'What do you do? How do you get it into print?'" he continued. "Amy Martin in the English department told me her mother had published a book about her journey with Alzheimer's, with a publisher in Rhinebeck, New York, Epigraph."
Mark reached out to the publishing house. He said the support they supplied to the first-time authors was "tremendous."
Jeannie, a meticulous writer, began pouring over the initial draft to prepare the book for printing.
"I think the last word I typed out on the book was July 4, and I was so relieved because we finally kept this promise we made to [Allen] all these years ago," Jeannie said. "She had a wonderful life, and she was a very interesting woman."
Mark said he feels the connection to Ponzi will pique the interest of readers, as there really hasn't been much written about the charming immigrant con man in the recent past.
"It sort of reminds me of the whole setup for the 'Titanic' movie," Mark said of the book. "You have this background story of two people, one person who brings another's downfall and how it affects each side, written in alternate chapters, how it affects Joe and Hart, and Charles and Rose Ponzi."
As for the two writers, after all these years of caring for the story, "to actually hold [the book] in your hand [is] a real thrill," Mark said.
"Good Night, Dear Hart, Good Night," is available at the Odyssey Book Shop, at the Village Commons in South Hadley, Massachusetts and through Amazon.com
The Gionfriddos will be at a book signing at The Garage at the Colonial Theater, Pittsfield, at 4 p.m. on Dec. 17, following the matinee of "A Christmas Carol."
For more information on the book, including upcoming dates for book signings by the authors, visit http://goodnightdearhart.com/