Dean Cycon – Brewing up social change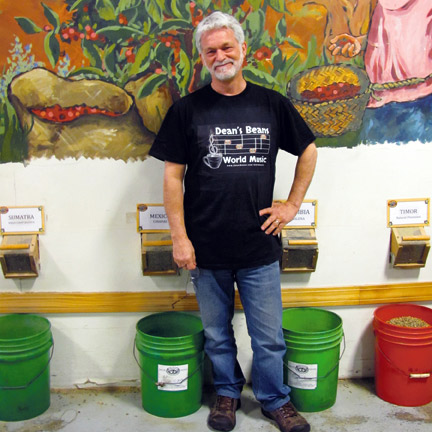 By Debbie Gardner
debbieg@thereminder.com

There's a coffee plant in the corner of Dean Cycon's modest office at Dean's Bean's corporate headquarters in Orange, Massachusetts.
"It doesn't have any coffee beans on it right now" Cycon said as he showed off the plant's shiny green leaves. But it had in the past, he noted, and probably would again.
As all gardeners know, nurturing a plant is both a profession of hope and an act of faith.
In a way, that makes his coffee plant a perfect metaphor for Cycon's signature way of conducting business.
"Twenty-three years ago I started Dean's Beans as an experiment, to see if it was possible for a business to be both profitable and a real participant in change, not just a very profitable company that gave a little extra money to a charity," Cycon explained as he gave PRIME a tour of the compact, 12-employee production facility that roasts, grinds and packages over a half-million pounds of the 42 distinct Dean's Beans coffee blends per annum. "Was it possible to integrate your business with the very people who provided you your raw materials from the developing world and make a meaningful difference in their lives, and still be profitable?"
The world, Cycon said, has come a long way since he invested $7,000 in a small coffee roster and a few bags of beans – paying the suppliers a fair price for their raw product – and began roasting his own coffee in the barn on his New Salem, Massachusetts farm. Other companies – some large, some small – have adopted portions of his approach to running a business with a social conscience.
"We've had a lot of impact on thinking, and we've also seen a lot of capture of those concepts by companies that don't want to change, but want to look like they're changing, look like they're contributing," he pointed out.
Few, however, have been as recognized for what they do as Dean's Beans, which in 2013 received both an Oslo "Business for Peace" award – which honors socially responsible business owners who bring about positive change – and the United Nations Women's Empowerment Principles Leadership Award for Community Engagement.
From funding a water buffalo eco-management project in Sumatra to assisting in native plant restoration in Peru to building a much needed well in Ethiopia and establishing a prosthetics limb clinic for farmers in war-ravaged Nicaragua, Cycon walks the walk of using business to change the world.

The evolution of a "Javatreckker"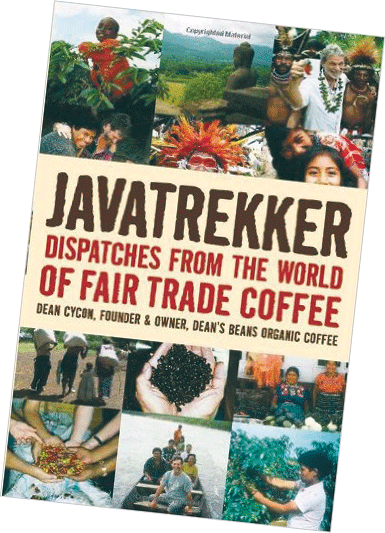 Though he graduated college with a law degree in 1974, Cycon quickly found the work didn't completely fit his view of the world.
"I was a lawyer and an activist with one foot in the mainstream legal world and another in indigenous rights and environmental issues at home and abroad." Cycon wrote in the prologue to his 2007 book "Javatreckker: Dispatches from the World of Fair Trade Coffee. "I thought the law would be a great vehicle for social change. It can be, but I did not have the constitution for it. I couldn't stand the paperwork, the legal maneuvering, and, frankly, the stacked deck of corporate money and power within the justice system."
A fellowship at the Woods Hole Oceanographic Institute in 1985 found him working on environmental issues again, this time researching the impacts of development on indigenous fishing cultures. At the same time, he continued pro bono work for indigenous peoples on human rights and environmental issues. In 1988, following a guest lecture about deforestation in Brazil at the University of Rhode Island, a professor asked him to meet with a friend, Bill Fishbein, who owned a local coffee shop. Fishbein wanted to create an organization that would help the poor coffee farmers in Brazil.
"I did my research on coffee farmers,"Cycon wrote. "And found out about 85 percent are indigenous peoples, which is a population I felt very comfortable working with." He also learned there were no development organizations supporting coffee growers in any country.
The two men soon founded the first non-profit organization in the coffee industry, CoffeeKids. Fishbein approached coffee companies to raise money for the charity and Cycon went in to the villages to assess needs and create programs designed to help improve the farmers' lives.
It was the kind of work that fit his passion, even if it didn't pay.
"I've always been interested in underdogs," Cycon said, admitting to having been both a New York Mets fan as a child and heavily influenced by the message of the Broadway musical "Man of la Mancha" – where his mother was the wardrobe supervisor – during his high school years.
"It was all about the 'impossible dream'," Cycon said of the play. " I used to travel in with her on weekends and work as a stage hand, and so every night I would tear up at the end of the show as they sang 'The Impossible Dream' and so my life has been infused with this feeling of hope and possibility.
"But I'm also a very practical guy, so I'm also infused with. 'You've got to do something about it to make it happen'," he continued. "I come from a working class family and that's the only way things get done, is if you work hard."
In "Javatreckker," Cycon wrote about working on a well project for a village in Guatemala. A big coffee company was donating the money, and had plans to do a publicity campaign showcasing their work to "take care of farmers" to its customers.
"But the company would continue to pay very low prices to the farmers," Cycon noted in his story. "Nothing would really change."

Brewing up an idea
The false image of social activism presented by some of the big coffee companies irritated Cycon, and he began to ponder what might happen if instead of making a charity investment in a village, a company actually changed how it bought coffee.
"So I wondered, what would it look like if a company actually paid real money to the coffee farmers for their raw materials," Cycon said. "And what would it look like if a company really engaged directly in addressing those developmental issues in the coffee villages.
"Could a company do all that and still be profitable? If so, then I had a new business model," he added.
In 1993 he took out a home equity loan and put his ideas into action.
Today, a tractor-trailer brings about 40,000 pounds of organic, fair-trade raw coffee beans to Dean's roasting facility in Orange every three weeks.
The company, Cycon said, has brought in "around $5 million in sales [and] we work in 10 countries with both development and advocacy and fair trade. We've won numerous international awards for our business model and had the opportunity to inspire a lot of other businesses and other people to seek to make what they do in the world more positive while supporting their families."
And he's done all this selling coffee – at $9 a bag.

Changing the world from Orange, Massachusetts
Cycon's desire to effect social change isn't just limited to his work in the coffee villages. He said when Dean's Beans outgrew his New Salem barn, he purposely looked around for a local city or town that needed support.
"Orange, at the time, had the highest unemployment and the lowest educational achievement" in the area he said, so he moved his growing business to that town and began shipping coffee to individuals who order online, independent cafes and retailers such as Whole Foods, from two modest red farm-style buildings on Moore Avenue.
And though he still makes about four personal visits to coffee-growing suppliers a year – as well as orchestrating a robust internship program for both students and older advocates to work directly on projects that effect real change in the villages that grow the raw materials for Dean's Beans – Cycon also has environmental concerns that are closer to home. Specifically, he's been concerned about the six of his 42 roasts that are packaged in single-cup brew servings, and the environmental impact of all these throwaway little cups, for some time.
He's proud to say that Dean's Beans uses a recyclable brewing cup called a reCUP that's compatible with a K-cup and Keurig brewing machines for four of the six blends (hazelnut and decaf individual brewing cups are not Keurig compatible).
Cycon said he was "after Green Mountain to do this for years," and finally recently took the initiative himself to get the product into distribution.
Within a year, he added, he expects Dean's Beans single serve coffee to be packaged in the first totally compostable cup in the industry.
Looking back, Cycon said it may have been a convoluted path, but in the end he has achieved what so many hope for in life – a way to make a living that feeds your passion.
"I didn't find my life path until I was 40," Cycon said. "[When I lecture] I tell college students 'don't be in such a hurry, it will evolve;' I picked up the life skills and experience as I went along."
For information about Dean's Beans internships, advocacy in the world – and great coffee – visit www.deansbeans.com.