A Perfect Pitch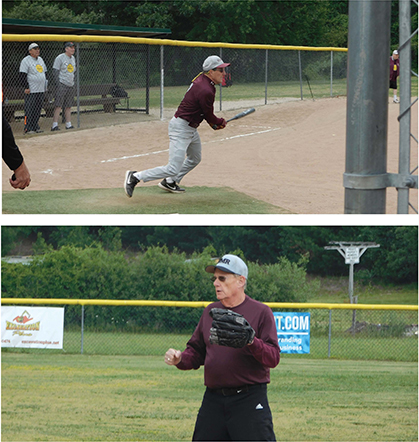 Call is home run for Senior Games and men's softball
By Debbie Gardner
dgardner@thereminder.com
There were grey skies – a mix of Canadian wildfire smoke and an impending drizzle – hanging over Relics Field at the Ludlow Fish & Game Club when Prime pulled into the parking lot. The weather, however, didn't seem to deter the cars pouring in, nor the men hustling to the dugouts to don team colors and hang gear bags on the fence.
It was the Wednesday afternoon game – "at least it's not too hot," one player remarked as he walked by, eyeing the camera around my neck. As players on both sides began warming up pitchers and batting arms – and trading dugout banter – a group of three men walked the baseline to inspect, dig up and reposition first base. A small clutch of women – the cheering section for the maroon-shirted Lepow's Legends I was told, staked out a good site line along the first base fence, lining up their chairs close together so they could discuss the plays easily. Game umpires, sporting bright orange shirts, showed up just as play was about to begin.
The afternoon had all the hallmarks of any other ballgame. The only difference, no player on either team was younger than 65 years old.
It was a privilege to be a spectator and watch these two men's softball teams dig in and play a game they all obviously loved. But Prime wasn't there to just watch the game. Steve Lepow, the maroon team's first baseman and local coordinator for the Massachusetts Senior Games first men's softball tourney in 10 years, had agreed to meet up to chat about the Games newest competition, and the part the Western Mass Relics Senior Softball League was destined to play.
A long time coming
Joan Simmons, newly minted games coordinator for the Massachusetts Senior Games had been quick to tell Prime that it was Lepow, not herself, who got the ball rolling for this year's men's softball tournament, slated for July 29 and 30 in Worcester.
"To be honest it was Steve that called me," Simmons shared, "And he suggested at least one of the contacts" in the other statewide leagues.
Simmons said she now has a men's softball team contact in all four sections of the state – Lepow in Western Mass. with the Relics, Doug Belanger for the Worcester -based league, Steve Bober for the Eastern Mass.-Boston Softball league and Bob Kemple for the Cape Cod league – thanks to Lepow's prodding.
"All of these [men] have been active members with their league's boards and are definitely invested in their leagues for a number of years and definitely are excited to be doing this," Simmons – who admitted she personally knows "very little" about softball – added.
The 2023 men's softball tournament will be a first for the Massachusetts Senior Games in several ways – both in location and number of teams involved. "It was held in Springfield [ last time] and there were just a few teams that participated, I think," Simmons said. She noted that the lack of regulation softball fields in the City of Homes – "I don't know if Springfield has two softball fields in close proximity" – made Worcester, which has more fields available, a better choice for this tournament. Belanger, the Worcester-area contact, will serve as the event manager.
"Mass Senior Games requires that events have an official event manager, and this is wonderful, because [Belanger] is in Worcester and knows the area," Simmons said.
The four coordinators – Lepow, Belanger, Bober and Kemple – and Simmons agreed on a straightforward tournament format for the reintroduction of men's softball to the Games.
"There will be two teams from each of the four areas for a total of eight teams," Simmons explained. Under this first-year format, each region will bring one team comprised of players 60 years of age and older, and another team comprised of players who are 65 years of age and older, she added. The goal is to get the sport back on the roster, get the teams together to play, and to have fun, Simmons said.
"For this year we wanted to keep it simple and [we are] doing things as we figure them out. We definitely want [the tournament] to be bigger next year," Simmons said.
"I like that [the coordinators'] approach is friendly and low key and I think that's good," she added.
The long-range hope is to eventually be able to have Mass. Senior Games men's softball teams prepped and ready to attend the biannual National Senior Games in the future.
Softball is "huge" at the national games level, Simmons noted. "At the National Senior Games softball is so huge that they have their own [dedicated] week and their own games."
But 2023 isn't a qualifying year for the National Games, so there's time for those decisions, Simmons said. "It may stay with the Mass Games, and then we'll see," she opined.
Getting a team ready
Simmons noted that it was "wonderful" that Western Massachusetts had an experienced men's softball league like the Relics to represent the region in the new Senior Games tourney.
Lepow shared that the Relics have been playing as a league at Ludlow's Fish & Game Club "since 1994" and that the league currently has a total of 230 players, with approximately 116 men in each of the two divisions, 60 to 65 (Silver) and 65 and older (Gold). There are no tryouts or athletic criteria for potential team members, just a desire to play and have fun, according to the team website.
The league has teams that play in the regular weekly game rotation, as well as a traveling tournament team, the Diamond Dogs, which plays throughout the region.
For the 2023 Mass Senior Games tournament, Lepow was actively recruiting coaches and players when Prime met with him, with tourney practice slated to start shortly.
"I'd like 15 on each team, no more than 20," Lepow stated, adding that the teams for this round of play would be broken down into age 60-plus and age 65-plus rosters. "We wanted to start small, that's why we limited it to 60-plus and 65-plus," Lepow said. 'If everything goes smoothly, next year we'll have a 70-plus and 75-plus team."
The "small start" didn't stop him from pointing out some men who might be on the tourney invite list as they came to bat that afternoon, including the slim and talented Ralph Arthur - "he's fast," Lepow observed - and the solid hitter Roy Gosselin, both on the team where Lepow plays first base.
"In our minds we know which players we want to play [in the tourney] but obviously, we're letting the coaches make that decision," Lepow added. On that afternoon, he knew James Quinlan had signed up to coach the 60-plus team, and was waiting for a callback from Dan Fredette, who he'd tapped to coach the 65-plus roster.
But Lepow knew that even first-year recruits, like Davis Johnson, from the day's opposing team, Total Chaos, would be hoping for a shot at tourney slot.
"I'm just back [to the game] after 30 years, I missed it," Johnson told Prime, adding that two hip replacements were keeping him from playing a favored position as a center fielder. "I'm an infielder now, or third base, sometimes a catcher," said the 73-year-old. Regarding the upcoming Senior Games tournament, Johnson said, "I'm hoping for a spot, if I can help out."
Lepow said once the tournament rosters were filled out, he didn't expect it to take long for the two teams to be ready for the Worcester games.
"We play together all the time, and a lot of the guys are on the [traveling] tournament team and play all week," Lepow said.