25 years of 'Paradise City'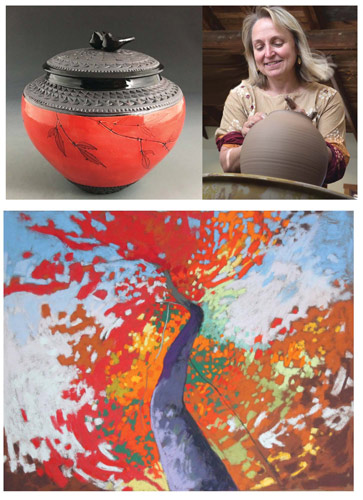 Talking with founders Linda and Geoffrey Post
By Debbie Gardner
debbieg@thereminder.com
It's become an institution in Western Massachusetts, and renown throughout the Northeast.
But like everything, the Paradise City Arts Festival started out as a dream.
As the iconic fine arts exhibition and marketplace reaches the 25-year mark with its Columbus Day weekend show, Prime sat down with co-founders Linda and Geoffrey Post for a look back at how it all began, and a look ahead at what the future may hold for the Festival.
There's no place like home
As with many great ideas, the couple said the birth of Paradise City was a question of timing, talent and desire.
"My husband and I were both artists and craftspeople, that's how we made our living, Linda Post shared with Prime, explaining that their shared medium was textile arts. "We started out very young – just out of college – traveling around the country selling our products. Our craft business was very successful."
But after nearly 20 years of selling their creations on the road, Linda and her husband, Geoffrey, reached the point where, she said, they were ready for a change. They'd made Northampton their home, and wanted to find a way to build on the experience they'd gained exhibiting at festivals on the road as they took the next career step.
"We wanted to do something that could utilize all the connections we'd made and what we'd learned over the past 20 years," Linda said. "We felt we had enough experience to come up with a canvas for a show that would be a bit different and would "push all the right buttons" with artists."
She said over the years, they'd observed what worked well and what didn't work well at the shows they had participated in. Based on that experience, the couple felt they could develop a show that would be "accessible for the artists, be of high quality [for attendees and exhibitors] and also be fun" right in their own backyard.
So, in early 1995 the couple started looking around for a space that could house their vision. It quickly became obvious that the only viable option in the greater Northampton area was the Three County Fairgrounds.
It had plenty of space and was both visible and accessible from I-91 – but it was also, as Linda put it "pretty rustic" in atmosphere.
"All the buildings were designed to house animals, they were used for horse shows and such," she said. Their dilemma became one of presentation, "If we bring in all
these artists from all over the country," Linda said. "How do we make an appropriate space for them out of these buildings?"
Silk purse from a sow's ear
Though the arena at the Three Country Fairgrounds offered plenty of space to mount the arts and craft festival the Posts envisioned, the atmosphere left a lot to be desired.
"It had a dirt floor [so] we had them steamroll the dirt and lay down a plank floor and carpeting," Linda said. The Posts also paid to have sufficient power and custom lighting installed for the event.
"We also had to drape all the walls because [they] were not very attractive," she added. "We were trying to make it look more like a traditional convention center, but it was a big, horse barn."
With a roster of artists expected from all over the country and the hope that the event would draw attendees from a wide area through aggressive advertising, the Posts had invested a lot of both physical and emotional capital in their startup event.
"We totally took a chance on doing this," Linda said. "It was very expensive" beyond renting the fairgrounds. And then, as Geoffrey noted, there was the work to discover and contract with the people to do the flooring, carpet and draping.
But the work was worth it – Linda said.
"When [the artists and attendees] came, I think the found the contrast very charming, the fairgrounds, the indoor and outdoor spaces [and that] the main exhibit space was really in a refurbished barn. It showed off the work beautifully, but it was still a country fairgrounds," she shared.
But the horse barn wasn't the only challenge the Posts faced in mounting that first show. The caterer they hired to provide food backed out "10 to 12 days before the show" Geoffery said. "They woke up and called us and said, 'We're not sure we can
handle that number of people,'" he recalled. Linda said the couple regrouped and reached out to some local restaurant owners they knew in Northampton. Their plea worked and from the beginning Paradise City has been known for providing food from real restaurants with real recipes and real chefs, [who] really give thought to what they put out," Geofferey said. Linda added that many of the restaurants – and 25 of the exhibitors – who were with them for that first show back in 1995 are still part of the Paradise City festival today.
Then there was the weather for that first show.
"That first year there was a late-season hurricane," Geoffrey recalled. "There were 90 mile per hour winds and torrential rains when we were trying to put down the carpeting." And then there were the then-unpaved pathways between the buildings, which turned to mud.
"We had to go out and buy 200 sheets of plywood and make walkways and ramps so you didn't sink ankle-deep in the mud," Geoffrey said. "[we were] already on the hook for all these expenses, and then we had to go out for plywood."
Despite all the setbacks, Linda said the pair considered the first Paradise City Arts Festival a success." It was better than we expected," she said. "We had a roster of people we knew [who] came, and they were impressed by the quality of the artists and the patrons at the show. They became our ambassadors."
Third time's the charm
The second Paradise City Arts Festival was "a little better" according to Geoffrey, with more artists coming to exhibit. The pair was still running their craft business, which meant they had a steady source of income to help offset the festival expenses.
And then they mounted the show for the third year.
"We got picked up by the New York Times, there was a front-page article in the Boston Globe, and an article in Yankee magazine [about Paradise City]," Geoffrey said. "People were backed up on the highway. We got calls from the Springfield Convention Bureau telling us there were no hotel rooms left [locally]. We ended up filing the hotels at the airport and in the Berkshires."
The success was a relief to the Posts. "I don't know what we would have done if it didn't evolve," Geoffrey said.
When it came time to plan for the fourth year of the festival, Linda said the pair looked to expand.
"We decided that it was time to diversify and decided to add a second show in Northampton in the spring, and a spring show in the Boston area," Linda said. "We thought, thousands of people traveled from Boston to see the [Northampton[ show, probably more would come to see it if it were closer."
That Boston-area show – which now runs annually in Marlborough in both the spring and fall – is slightly smaller, and is all indoors at a convention center. Linda said it usually draws about 175 exhibitors.
For the ensuing 21 years the Posts have coordinated and overseen the operation of four major New England craft fairs – spring and fall in Northampton and the same schedule in Marlborough. For "a few years" they also operated a version of the Paradise City show in Philadelphia, and tried a similar small show in Ft. Lauderdale.
"We did it in the convention center in 2001," Geoffrey said. "It was on a small road that also leads to an oil facility and a cruise line wharf.
"What happened in 2001 – 9/11 – and we were doing the show two months after the attack and because the road was now access to a large oil storage facility, there were guys with guns [guarding it]. Every artist and patron had to be stopped and searched. It put a damper on [the show]."
Geoffrey said they got good reviews from those who came, and they mounted the show a second fall in Ft. Lauderdale, but with the continued heightened security at the time, "people stopped wanting to come" and that issue, combined with the logistics of running a long-distance show, made it prudent to pull back.
At the 15-year mark, Linda said they started producing a four-color magazine twice a year highlighting the upcoming shows, the artists slated to exhibit, and the other amenities that have become show staples, such as the participating restaurants and the charities that the Festival is supporting that season. Over the years, Linda said Paradise City has partnered with such non-profits as the International Language Institute, Dakin Humane Society, the Cancer Connection, and WGBY Public Television.
"It tells our story much better than a postcard would," Linda said of the glossy publication tht now has a mailing list of 60,000 subscribers nationwide. It also helps the Posts carry out what they considered part of their "mission" when they started their shows, which was "to help promote [the artists] careers, those who have been with us, and those new to the show," Linda said.
Looking forward
As they mount their 25th Festival this Columbus Day weekend – Oct. 12, 13 and 14 – the Posts reflected on the future of Paradise City for Prime. For now it looks bright. For example, there were improvements to the Fairgrounds – including new covered walkways and the construction of new buildings over the past few years – that make mounting the annual shows easier for artists and more enjoyable for patrons. And both patrons and a growing roster of artists, they said, seem to look forward to the now twice-a-year shows.
"It's something we just can't shut down, too many artists count on it for a chunk of their income," Geoffrey said. "We're fortunate our health is good, we feel good and the shows are successful."
Linda said the changes in communication and marketing tools over the quarter-century have transformed the way the show operates.
"It's taken on a life of its own," Linda said. "We've been able to make a lot of our jobs easier [with technology], digitizing has made that easier.
"It's a changing world," she continued. "Think about how we promote our shows. Think about the advertising, we do a lot with social media [now]."
For this year Paradise City attendees can expect many of the things they have come to love about a trip to the Three County Fairgrounds – 225 juried exhibits by contemporary artists and craftspeople, renown restaurant fare in the food tent, great music, a silent auction to support WGBY Public Television and a walkable sculpture garden. This year's specialty exhibit is entitled "The Circle Game," and features art created in round shapes. Geoffrey said there would also be "a few surprises" to commemorate their 25th anniversary, but he didn't want to spill the beans just yet.
Festival dates, times
Hours for the 25th Anniversary edition of the Paradise City Arts Festival are Oct. 12, 10 a.m.-6.p.m.; Oct. 13, 10 a.m.-5 p.m.; Oct. 14, 10 a.m.
-4 p.m. Admission is Adults: $14. Seniors 65+: $12. Students: $8. Three-Day Pass: $16 and 12 and under free. A full-color program is free with admission. Tickets available online or at the box office. Parking is free! For more Information: Call 800-511-9725 or visit: www.paradisecityarts.com.
Why call it "Paradise City?"
As we were talking about the evolution of their now quarter-century-old fine arts and crafts show, Prime asked the Posts where they came up with "Paradise City" as the show name.
"We were looking for a name back in 1994 [before the first show]. We didn't want to just call it the Northampton Craft Fair because we wanted to include fine arts," Linda explained.
She said they were aware that "Paradise City" was an old nickname for Northampton, and that over the years it had mostly fallen out of use. The name intrigued the couple, but they wanted to know more about that moniker before adopting it for their show.
"I called up a person at Forbes Library – this person knows everything [about Northampton]," Linda shared. "She told me a story – that back in the 1850s there was a famous singer named Jenny Lind [and] she was touring the U.S. and gave a concert in Northampton."
Lind, she said, later returned to Northampton to honeymoon with her husband, Otto. Linda said during this honeymoon it was reported "[Lind] and her husband Otto were sitting by Paradise Pond by Smith College, and she turned to him and said, 'oh, this must be the paradise of America.'" Like many stars today, Lind had her share of paparazzi that followed
her around, and the next day stories in several newspapers exclaimed, "Northampton is Paradise City," Linda noted.
With that bit of history about the phrase, Linda said deciding to name their show Paradise City seemed a natural fit.
"That's what we create – a city that goes up in three days and comes down again," she said of the now iconic twice-a-year juried fine arts and crafts exhibition – one that draws artists and patrons from across the country – the couple produces at the Three County Fairgrounds.
"We knew we'd made it when you search for "Paradise City" [online] and we come up equal with [the song by] Guns & Roses," Geoffrey joked.