March 10 'Big Broadcast' recreates golden age of live radio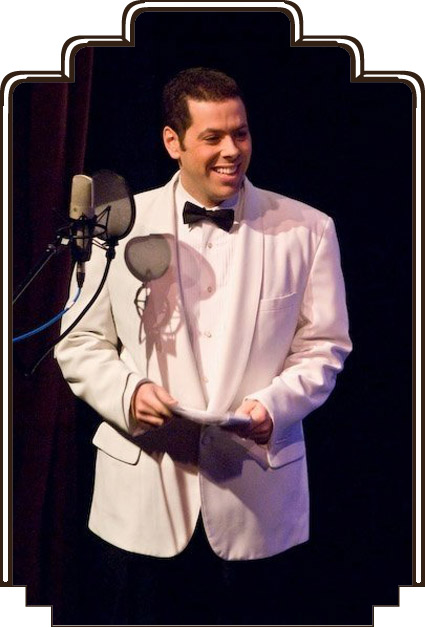 PRIME – March 2013
SOUTH HADLEY, Mass. – The Jazz Ensembles of Mount Holyoke College will travel back in time to the 1940s for the eighth annual presentation of "The Big Broadcast!" March 10 at 2 and 7 p.m. in Chapin Auditorium on the campus of Mount Holyoke College. "The Big Broadcast!" is a part of Mount Holyoke College's 175th Anniversary events series. Mount Holyoke College music faculty member Mark Gionfriddo originally created "The Big Broadcast!" for a small cabaret group he directed, and incorporated it into the college's concert season. "Students and I researched live radio broadcasts of the 1940s: the big band swing music, the radio serials and the commercials of the day," Gionfriddo said. "We incorporate all of these elements into our production to give the audience the feel of an authentic radio variety program on a fictitious station named WJAZ." Gionfriddo added "My original intent with 'The Big Broadcast!' was that it was an unusual, creative way to give the students of the Jazz Ensembles an opportunity to merge elements of theatre with classic dance band swing music. It has since developed into a history lesson of the 1940s – the good and the bad, warts and all – for both the participants and the audience. This year, we've added some interesting touches: the producers have written a fun, Nancy Drew type radio serial, and I've composed special jingles and incidental music in the style of the era." Brian Lapis, meteorologist at WWLP-22 News, returns to "The Big Broadcast!" for his sixth season as WJAZ announcer and emcee Fred Kelley. Gionfriddo, as WJAZ Maestro Matt Morgan, directs the students of the Mount Holyoke Big Band, Vocal Jazz, and Chamber Jazz Ensembles, who will perform well-known tunes, including music by Irving Berlin, the Andrews Sisters, Bing Crosby, George Gershwin, Benny Goodman, Gene Krupa and Harry James. Gionfriddo is well known to area concertgoers as pianist, accompanist, composer, arranger, and musical director. His versatility and knowledge of many musical styles has brought him together with a wide range of popular and classical artists through the years, among them Mitzi Gaynor, Liberace, Al Martino, Anna Moffo, and Garrison Keillor. His adventures while assistant conductor on board Cunard's MS Royal Viking Sun brought him around the world to 30 countries. Gionfriddo received his bachelor's degree in piano from Skidmore College and master's degree in accompanying from the University of Massachusetts, Amherst. He has been based at Mount Holyoke College since 1986, where he is a senior instructor in jazz piano as well as director and founder of the Jazz Ensembles. In 2006, Gionfriddo conducted the college's Big Band during two episodes of the popular public radio quiz show "Says You!" Last summer, he directed a revival of the Ed Kleban musical, "A Class Act" at the Berkshire Theatre Festival in Stockbridge and off-Broadway at the Robert Moss Theatre. Lapis joined the 22News Storm Team in 1996. He got his start in broadcasting at the age of 15 at radio station WILI, in his hometown of Willimantic, Conn. He's worked as a radio on-air talent for stations in Hartford, conn.; Philadelphia, Penn.; Syracuse, NY; and Providence, R. I. Lapis has a bachelor's degree in television radio film management from Syracuse University. In addition, he holds a certificate in broadcast meteorology from Mississippi State University. Cheryl Cobb, lecturer in music at Mount Holyoke College, will once again be featured as a sound effects artist in an original second act radio play. Gionfriddo's Mount Holyoke College student producers are Ella Holmes, '16, Melanie Stuart, '14, Justine Marks, '14, and Emily Moner, '13. Moner and Stuart serve the ensembles as coordinators of the vocal and instrumental jazz groups. To view a video trailer of "The Big Broadcast!" visit the following website:
www.youtube.com/watch?v=vZg6nMLDT8o&feature=youtube
Tickets are general admission; $20 for premium front and center seating, $15 for regular seating and $10 for seniors and students. Tickets are available at Odyssey Bookshop, Village Commons, and The Northampton box office. For phone orders, call 413-586-8686 or 1-800-THE TICK. For online orders, visit nbotickets.com. Tickets will also be sold at the door one hour before each performance, subject to availability. Chapin Auditorium is in Mary Wooley Hall on the campus of Mount Holyoke College, Route. 116, South Hadley. For directions to Mount Holyoke College, visit www.mtholyoke.edu/about/directions.html For a campus map, visit
www.mtholyoke.edu/campusmap/
. Sponsors of "The Big Broadcast!" to date include: Mount Holyoke College, Baystate Health, The Republican/Mass Live, New England Public Radio, WWLP-TV22, Loomis Communities and Applewood/Amherst. A portion of the proceeds from "The Big Broadcast!" will benefit the Holyoke, Mass. Rotary Literacy Programs. Each year, The Gollie Root Dictionary Project distributes approximately 800 dictionaries to every third grader in Holyoke, Granby, and South Hadley, Mass. The Holyoke Rotary, in partnership with Holyoke's Public Library and Public Schools, hosts a summer reading program at Kelly School.