Alexa, could you....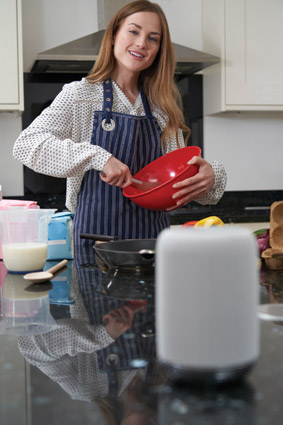 Taking the pulse of digital assistant use
Do you have a virtual assistant? If you've used Siri or Google to answer a question or find information on your smartphone or have an Amazon Echo or Google Home device in your house, then the answer is "yes." And whether that voice-activated assistant simply came along with your latest phone purchase, was a gift from a younger relative, or something you decided to try out yourself, there's no question that these devices are slowly becoming part of everyday life.
To get a sense of how readily mid-lifers and elders are embracing – and using – this new technology, Prime polled a group of local individuals on Facebook. What we learned very much echoed the findings in a study on the perceptions of digital assistants recently published in "Ergonomics in Design: The Quarterly of Human Factor Adaptations."
That study stated, "Participants reported engaging in a range of activities with their digital assistant [that] included everything from simple activities such as playing music, obtaining weather information, or setting reminders to more complex interactions such as playing trivia games with others or ordering items from Amazon."
Our Prime pollsters seemed to find the same kinds of uses for their digital assistants, and age didn't seem a factor in embracing these new technologies.
Alexa, please…
Our Prime pollsters ranged in age from 45 to 91. Most people had either an Echo Show or Dot in their homes, some had multiple Dots in different rooms!
The most popular use for this digital assistant was to play music. One respondent said she has her Echo Dots connected so it's possible to "play music in multiple rooms" simultaneously (goodbye stereo speakers in different rooms!). My mother, who is in her 90s, said she likes to use the Echo Dot we got her for Christmas to play music while she is doing chores like reading the mail or paying bills.
When it came to the second most popular uses for digital assistants, it was a tie. Prime's poll respondents said getting the weather, and setting timers or alarms were their second biggest uses for Alexa. One respondent, who owns a hair salon, said she uses the Dot in her shop to time chemical processes like color and perms, while in her home 'It's my alarm clock every morning!" Another said that her Alexa has replaced her traditional kitchen timer for timing recipes when baking and cooking.
Others said they used their digital assistants to set reminders for appointments and, for older respondents, medications. For example, in my home, we have an Echo Show in our kitchen and my husband has used it to set a reminder to check the oil and fluids in our two cars the first of every month.
Among those who used Alexa for weather forecasting, getting the local outdoor temperature (goodbye outdoor thermometer) and a quick morning rundown of the local forecast (sorry TV meteorologists) were the most popular uses.
Safety and security
Digital assistants also proved a popular way to up home security. Several respondents said they have their Dot and/or Show augmented with devices that allow them to turn lights on and off through Alexa, even when they are not home. Like several others, we have our Ring doorbell activations – and now a backyard security camera – also display on our Echo Show.
One respondent said she has her alarm system connected to her Echo devices so that she can be alerted to a break-in wherever she is.
And that grocery list
Our youngest respondent said she uses the Alexa on her Echo Show to create a grocery list that she can then access on her phone when out in the store. We've used ours to keep a running list of things we are out of, and
recently discovered we can send that list to our printer to create a hard copy list to take with us (yes, I love my paper lists).
No one I polled used their digital assistant to voice order from Amazon or other online sources at this point.
I however frequently ask Alexa to tell me a joke, or give me the word of the day from Merriam Webster.
Several pollsters admitted to using their Alexa to find recipes and provide step-by-step video cooking instructions.
Google and Siri
Most of those who had digital assistant devices in their homes also mentioned using the digital assistants on their phones. One respondent said she relies on Siri when she is in the car to make and answer hands-free phone calls. Another said she uses Google for driving directions, and to look up information such as gas stations and restaurants.
Prime pollsters seem to have very much embraced the digital assistants in their lives, using the capacities for what fits their needs.
The number of skills these digital assistants have are almost limitless. Many are simply a fun thing to do, but others require time and research to find and learn how to use them.