The Capitol Steps return with "Obama Mia" Nov. 14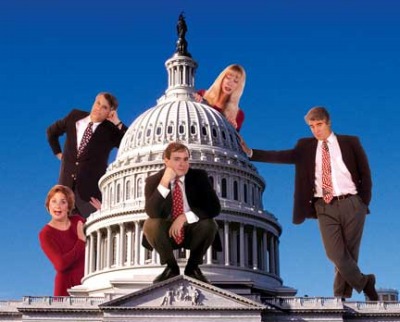 The Capitol Steps, America's award-winning political musical satirists, return to the Pioneer Valley with their new tour, "Obama Mia" for one performance only, Nov. 14 , at 8 p.m. at the Academy of Music Theatre, 274 Main Street, in downtown Northampton.
Who says politics isn't funny!
Famous for putting the "mock" in democracy, the Capitol Steps have become an annual area tradition as this irreverent group charms audiences on both sides of the aisle with its unique brand of political humor set to popular music. While the Capitol Steps are renowned for poking fun at occupants of the White House, no one is safe from their satirical barbs, from Democrats to Republicans and from Congress to the Supreme Court. The Capitol Steps provide the only show to feature North Korean leader Kim Jong Il singing show tunes ("How Do You Solve a Problem Like Korea?") and Vladimir Putin showing his 'soul' in "Midnight Raid to Georgia."
28 years of poking fun
Since they began performing in 1981, the Capitol Steps have recorded 29 albums. They've been featured on NBC, CBS, ABC, and PBS, and can be heard four times a year on NPR stations nationwide during their "Politics Takes a Holiday" radio specials. The Capitol Steps have twice won the Washington Area Music Association's "Wammie Award" for outstanding cabaret and musical theatre performances; a New York Drama Desk nomination for "outstanding lyrics," and other national accolades.
About 'Obama Mia'
The Northampton program includes songs from their new album "Obama-Mia," as well as melodies spoofing the current issues in the news. The show hits both sides of the aisle, and the songs change with the scandal of the day. So . if something big happens in the news, you can run to the Capitol Steps show and find out exactly what rhymes with it! To preview some of the Capitol Steps materials and download selections from "ObamaMia," visit their Web site (
www.capsteps.com
) or find The Capitol Steps on MySpace, Facebook, YouTube, and Twitter.
Tickets, etc
Reserved seating tickets for "Obama Mia" are priced: Orchestra: $47.50, Loge: $45.00 and Balcony $40. All prices include a $1 Academy of Music facility charge. You can get tickets at the Northampton Box Office, 76 Main Street, Northampton, by telephone at 413-586-8686 or 800-THE-TICK and online at www.nbotickets.com The Capitol Steps Nov. 14 performance is sponsored by The Valley Advocate, The Daily Hampshire Gazette, 88.5 FM/WFCR, NPR News and Music for Western New England and 640 AM/WNNZ, WFCR's AM Broadcast Station.