"Mamma Mia! the Sing-A-Long" at Academy of Music March 6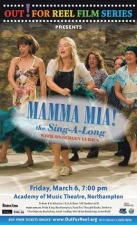 The Out! For Reel Film Series will present "Mamma Mia! The Sing-A-Long" on March 6, p.m., at the Academy of Music Theatre in Northampton, MA. "Mamma mia, here I go again. My, my, how can I resist you?" Well on March 6 you won't have to resist the urge to sing ABBA songs out loud in public. "Mamma Mia! The Sing-A-Long" gives everyone a chance to let loose and belt out their favorite ABBA songs with hundreds of friends and fans. It is a feel-good community event guaranteed to melt away even the most entrenched winter blues. "Just imagine 800 people singing "Dancing Queen" with all their hearts," said Jaime Michaels, producer of the Out! For Reel Film Series. "It's going to be wild and so much fun!" This "Mamma Mia! Sing-A-Long" is for everyone - gay and straight, women and men, young and older. It brings us all together in such an upbeat, happy way." said Michaels. Meryl Streep and Pierce Brosnan lead an all-star cast in this feature film adaptation of the beloved musical that has been seen by more than 30 million people in 170 cities and eight languages around the world. Inspired by the storytelling magic of ABBA's songs from "Dancing Queen" to "S.O.S.", "Mamma Mia!" is a celebration of mothers and daughters and fathers, female friendships, and true loves lost and new ones found. Explaining the worldwide phenomenon of the film's popularity, "Mamma Mia!" producer Judy Craymer said, "Whoever the audience is, whatever age the audience is, they see themselves up on the stage in some form. They seem to totally immerse themselves in the experience." Meryl Streep described her experience of seeing the stage show in New York for the first time as "pure joy." "The songs are timeless," Streep said. "They just enter your body." This event is one show only. Tickets are $10 in advance, $12 at the door, $8 for college students with ID. To purchase tickets online visit:
www.OutForReel.org
. Ticket outlets: Pride & Joy, Northampton, State Street Fruit Store, Northampton, Cooper's Corner, Florence, Food For Thought Books, Amherst, and the World Eye Bookshop, Greenfield. Close to 3000 people from all over western Massachusetts have attended the Out! For Reel Film Series over the past five months. Out! For Reel Film Series presents the best in first run Lesbian, Gay, Bi, Trans films from all over the world. Out! For Reel is committed to creating and strengthening our LGBT (Lesbian, Gay, Bisexual, Transgender) community and building positive connections with our heterosexual allies by showing films that offer insightful, entertaining, and positive portrayals of LGBT characters.