Summer in the Berkshires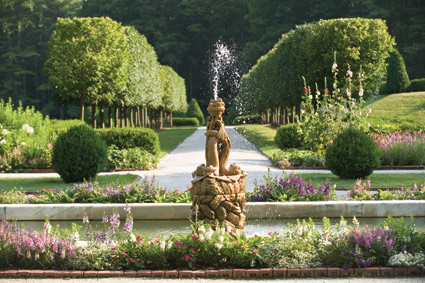 An arts mecca - so close to home - is ready for you!
By Debbie Gardner
A great summer of entertainment is just a short drive away. After a year of postponed performances, online offerings and open-air activities, the Berkshires is gearing up to welcome guests back for a season of plays, events, music and more.
You'll still find plenty of Berkshire offerings en plein air this summer – the coronavirus pandemic has taught us all how important the outdoors is to health and wellness – but with a new twist that often combines the excitement of live performances and the advantages of online access to bring this summer of performances to as many arts-starved patrons as possible.
Here's what's in store:
Tanglewood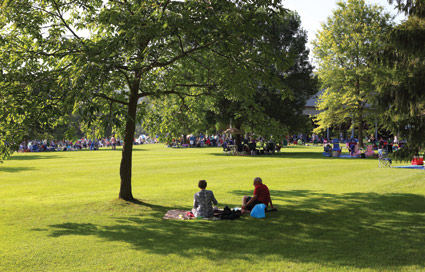 Patrons will enjoy music on the lawn at Tanglewood again this summer, as they did in this photo from the 2017 season.
Photo by Hilary Scott, courtesy of Tanglewood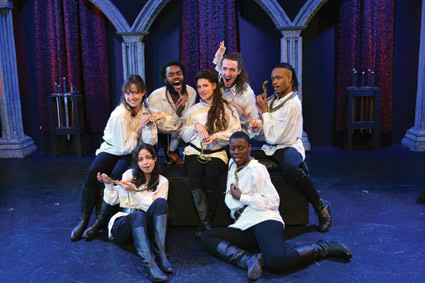 Members of the Shakespeare & Company troupe warmed up for this summer' season with a virtual Northeast Regional Tour of Shakespeare for schools.
Photo courtesy Shakespeare & Company; filmed by Patrick Toole
It was a silent summer in 2020, as the Boston Symphony Orchestra (BSO) was forced to cancel all performances beginning in March of last year, the result of the growing coronavirus threat in the state.
That makes the return to the BSO's longtime summer home – it's been in residence in the Berkshires since 1937 – that much sweeter for the 2021 season, according to Musical Director Andris Nelsons.
"This summer is destined to be incredibly special, as the BSO and I return to our beloved Tanglewood and concerts for live audiences," Nelsons said. "Among the many highlights planned, we will pay tribute to Beethoven and spotlight 19 important composers of our time, representing a beautiful spectrum of styles and diverse backgrounds."
The BSO will be presenting a "shorter, six-week season designed to capture the essential Tanglewood experience, with performances by the Boston Symphony, Boston Pops, and Tanglewood Music Center orchestras, many of the most preeminent guest artists of our time, and special chamber music and large ensemble groups greatly admired for the power and inspiration of their artistic gifts," according to a release about the upcoming season.
"The Tanglewood season would not be complete without appearances by the BSO's other artistic leaders: John Williams, Keith Lockhart and Thomas Adès," Nelsons explained. "We also welcome back such preeminent artists as Yo-Yo Ma, who will be featured in three appearances this summer, including an all-Tchaikovsky program led by Karina Canellakis. As a member of the class of 2014, Karina joins the distinguished Herbert Blomstedt and Alan Gilbert in representing three generations of former Tanglewood Music Center Fellows leading the BSO this summer. I am so delighted that Emanuel Ax will join me and the BSO for a performance of the Emperor Concerto in the orchestra's greatly anticipated all-Beethoven opening concert."
Performances featuring Joshua Bell, a rare and very special appearance by the Jazz at Lincoln Center Orchestra with the legendary Wynton Marsalis, and a guest appearance by John Williams –"who will lead the world premiere of his second violin concerto with the superb Anne-Sophie Mutter" – as well as sharing the podium with Keith Lockhart for a Boston Pops Film Night concert, round out the star-studded programming.
"All of us at the BSO feel a sense
of joyful anticipation about the 2021 Tanglewood season, when we will once again make music for our devoted audience members. It promises to be a season to remember and cherish," Nelsons shared.
For the complete Tanglewood schedule for 2021, visit https://www.bso.org/brands/tanglewood
Shakespeare & Company
"Six weeks ago we announced a season, thinking, 'We hope we can do this,'" "Shakespeare & Company Artistic Director Allyn Burrows told Prime when we reached the iconic theater group in mid-May. "Now it seems we can."
There was a sense of relief in Burrows voice as we discussed the upcoming plans for Shakespeare & Company's season, slated to begin on July 2 with the open-air production of "King Lear" starring Christopher Lloyd. Burrows said he and Lloyd had been collaborating to bring him to Lenox for the iconic role for two and a half years before COVID-19 shut down last year's planned performance. "King Lear" will run through Aug. 28.
"King Lear" is the inaugural production for the Spruce Theater, a new outdoor amphitheater that has been under construction since earlier this year on the sprawling Lenox, MA theater campus, home to Shakespeare & Company since 2000. The new space will expand and carry on the tradition of live, outdoor plays Shakespeare & Company began when it staged its first performance on the grounds of Edith Wharton's summer home in the Berkshires, The Mount, 40 years ago, Burrows explained
"This is the 20th anniversary of the year of our final performance at The Mount, so it's fitting that we do a homage to that [show] at what's no longer our new property. – 20 years ago we were just starting to perform at Kemble Street," Burrows shared, adding that for a time the troupe performed in both locations.
This new outdoor amphitheater "was an idea I had about five years ago," Burrows said. "It tied into the spirit of where we were outside at Edith Wharton's Estate" back in the early days of the company.
The coronavirus pandemic – fueling a decision by the board of directors and staff that the troupe "would be outside for the better part of the summer" this season – catapulted what Burrows called his "great idea" into a reality. His fervent hope is that the theater will be completed in time; pandemic-fueled material delays were slowing construction when we spoke.
He's also hoping patrons would be excited to see performances in the new, open-air space. The Spruce will be the second outdoor theater space on the campus, following in the model of the smaller, Roman Garden Theater that Burrows built four years ago. "That generally sells about 80 percent of its tickets, which shows people like to see outdoor theater in the Berkshires in the summer," Burrows opined.
It will still be a cautious return to live performances, Burrows said, with three-foot spacing between patron groups in the Spruce and the Roman Garden theaters this summer, as well as frequent sanitizing by the staff and a "COVID-19 code of courtesy" for the summer that will require patrons to continue wearing masks for the safety of all.
Beyond "King Lear" in the Spruce, Burrows said Shakespeare & Company has planned a fairly full slate of performances for summer 2021. The troupe will mount a 25th anniversary production of the play, "Art" by Yasmina Reza in the Roman Garden theater beginning on July 30 and running through Aug. 22, and concurrent with "King Lear" will be a one-woman show, "Becoming Othello, a Black Woman's Journey" afternoons in the Spruce July 16 through 25. In September Shakespeare & Company will host a staged reading of Shakespeare's "Measure for Measure" in the Roman Garden beginning Sept. 1, and a production of the absurd comedy "Chairs" in the Tina Packer Playhouse in the fall.
Even with the reduced audience capacity, Burrows is hoping for a good season. "On paper, it looks like any other season, with a lot of online productions," Burrows said.
For example, "King Lear" will also be available as a live streamed performance with a ticket price of $25. "The beauty of [online] is we can be reaching people in Europe; people who wouldn't have the chance to get up to the Berkshires in the summer, can see our plays," Burrows said.
"We just look forward to welcoming people back from a long dark period of time," Burrows added.
For Shakespeare & Company's full summer schedule of performances, COVID-19 policy and tickets, visit https://www.shakespeare.org/
The Mount
"It feels more like a normal summer," Susan Wissler, director of The Mount – Edith Wharton's historic, 19th century summer home in the Berkshires – told Prime during a late May interview. The May 29 lifting of the state's COVID-19 mask and capacity restrictions had her hoping for many visitors to the property and its programs.
"What I hope is that people will look forward to the use of our outdoor space in a new way," Wissler said, explaining that The Mount had decided to move its signature summer lecture series outdoors. "We rented a 102-ft. by 40-ft. tent and that's where we are going to host lectures" instead of the indoor hall which Wissler said could seat 140 under pre-pandemic conditions. Under the spacious tent they've planned for "a full slate of eight lectures and 16 lecturers. Tickets have gone on sale and so far we've had a very robust response," she said.
In addition Wissler said that sculpture will be back among the gardens this year, with 30 installations planned. The Mount will be hosting its own music series in the open-air space that in 2019 has been used by Shakespeare & Company to expand its summer offerings. That music series, Wissler said, would take place on Thursday evenings in August. "We will be coordinating with other organizations, and our own programming," she said. Among other special music programs is a Jazz and Classics for a Change concert on July 11.
There will also be dance performances and classes on the campus this summer, led by Berkshire Pulse and culminating in a performance on the campus at the end of August. The house and gardens are currently open for self-guided tours, and Wissler said she's hoping to reintroduce guided tours later in the summer. The Terrace Cafe is also slated to open to the public again this summer.
"Some of the events charge a fee, but there is a lot you can do for free on the grounds," she said, adding the grounds have remained open for visitors since March of 2019. Among the free events are the sculpture display and the storywalk ­– featuring pages of a family-friendly story posted along one of the nature trails – for families to enjoy.
The grounds at The Mount are open from dawn to dusk, but tours must still be pre-registered. For information on tours, the lecture series, concerts and dance performances, and the menu at the Terrace Cafe, visit https://www.edithwharton.org/
Jacob's Pillow
Seeing dance in the beautiful surroundings of the Berkshires is uplifting and "what we need coming out of the pandemic," Pamely Tatge, artistic and executive director of Jacob's Pillow told Prime during our interview. "We have a beautiful amphitheater that faces the Berkshire Hills," the perfect setting for that experience, she added.
Tatge said the Pillow - the oldest dance company in the U.S. and a historic landmark - has been hard at work planning a summer season that incorporates live performances and online broadcasts; like many venues the pandemic has shown the Pillow that connectivity online has allowed them to broaden their reach.
"What is remarkable is that this summer, every performance on the Henry J. Leir Outdoor Stage, two weeks after the performance, will be on film. People who are only able to be at the Pillow once will be able to be with us all season," Tatge shared.
The Pillow has shortened its festival season for 2021 ­– there will be nine weeks of performances rather than the traditional 10 – and has added performances that will be available only online – including one with a special virtual reality element. Scheduled for Aug 17 and created in collaboration with Seattle-based dancer and visual artist Zoe Scofield, and visual artist Juniper Shuey "The Other Side" takes viewers into the world of augmented reality dance.
"Patrons can order an art box that will arrive at the home, complete with VR goggles [for the performance]," Tatge said. "They will be able to experience a virtual performance at home with people from all over the world." The cost of the augmented reality art box is $50 per household, according to the Pillow's website.
Other highlights include the onsite performances by Dorrance Dance, Ballet Hispánico, the Dallas Black Dance Studio, Contra-Tiempo, Ballet Coast to Coast and Streb – a Montreal-based group specializing in athletic, movement theater. In addition, the Pillow will host its traditional weekly workshops and lectures with performers again this season.
Tatge said the Pillow will also be offering a selection of exclusive online performances – including the Paris Opera Ballet, which cannot travel this season because of COVID-19 restrictions - all free of charge this season.
"We're offering them for free, but asking people to make a donation," Tatge said. "It was very important for us, particularly this summer, to offer this to people for free ... but we are asking for people to make donations to help pay for the artists and also to pay for the making of the films."
For a complete listing of Jacob's Pillow's 2021 summer season, visit https://www.jacobspillow.org/